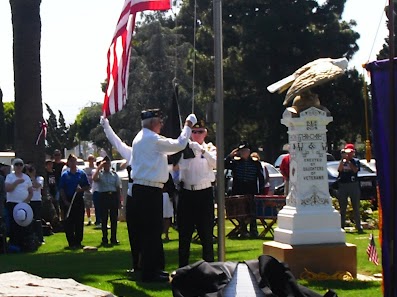 The Tri-City (Orange~Santa Ana~Tustin) Memorial Day Observance, co-sponsored by the Orange County Cemetery District, is set for Monday May 26, 2014 at 10:00 am, at 1919 Santa Clara Ave., in Santa Ana.  The event has the theme of "WWI: The War to End All Wars," marking the 100th Anniversary of World War I.
This event is dedicated to the memory of our fallen comrades in arms and is sponsored by Veteran & Community Service Organizations.  The event includes salutes by Civil War Cannons & Veteran Honor Squad, as well as a Parade of Flags, Memorial Wreaths Music, Speeches & Much More!
The Orange County Cemetery District is an independent special district governed by an appointed Board of Trustees who serve four-year terms.
The three cemeteries owned and operated by the District are among the county's oldest and most established, with each having recorded burials prior to 1900.
Although privately owned in the beginning, the cemeteries were formed into separate independent districts in 1926. In 1985 the districts were consolidated under one governing board to create the Orange County Cemetery District. Their boundaries encompass the entire county of Orange and include cemetery locations in Anaheim, Lake Forest and Santa Ana.