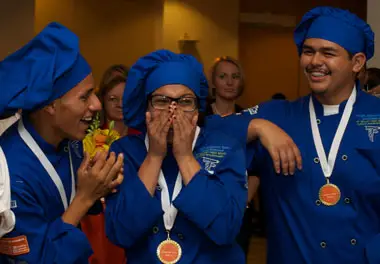 PRESS  RELEASE: May 22, 2012
CONTACT: Sharon Gomez, Program Director, High School Inc. Academies, Santa Ana Chamber of Commerce, (714) 541-5353, x.118
Three High School Inc. Students Win at National Culinary Competition
High School Inc., workforce development students put skills to the test
SANTA ANA – Ashley Blanco, Alejandro Hernandez and Ivan Lopez, senior Culinary Arts and Hospitality students in the High School Inc. Academies at Valley High School, were first-place winners in a recent competition in Washington, D.C. The team cooked a healthy meal that teens across American have indicated they would like to eat at their school cafeteria.
This was part of a national organization that promotes healthy eating in schools to lower childhood obesity that is prevalent in the poor neighborhoods of Santa Ana and others across the nation. The Santa Ana Chamber of Commerce began its High School Inc. program five years ago in an effort to build a stronger economic base by empowering youth to train for careers before they graduate from high school.
Among the people to help make this change for the academy students is, Natalie Vishny, President of Swellegant, a wedding and event planning company and Andres Batta, Allstate Financial Services Representative, Co Champions/Committee Chairs who have fostered career development, mentorship, and hands-on education. Others coaches, are Vince Kikugawa, Owner, Paradise Restaurant/Crowne Plaza Hotel; Patty Saldivar, Owner, Teresa's Jewelers; Chef Anais Trudel, So Cal Farmers Market/Mix Mart; Rett LeMoult, retired, Morgan Stanley Citi Smith Barney; Jesse Baker, President, CoEfficiency Organization; Natalie Tong, California Restaurant Association Foundation; Sharon Barlow, Owner, Sharon & Sons Floor to Ceiling; and Tyler Endres, Chef's Toys.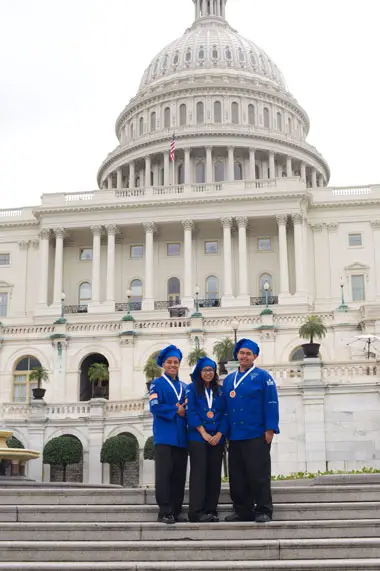 Local business partners and chefs affiliated with the Culinary Academy worked in the classroom with ten teams of students preparing for an Orange County competition held in March at the Northgate Gonzalez Markets corporate headquarters. Judges from celebrity television shows, restaurateurs, and community leaders were recruited to select the winning team to go to Washington D.C. That team—Ashley, Ivan and Alex—became mentees of Fit Chef Katy, a food and lifestyle coach from The Food Network. She worked with the students in culinary class, after school and on weekends to prepare for the national competition.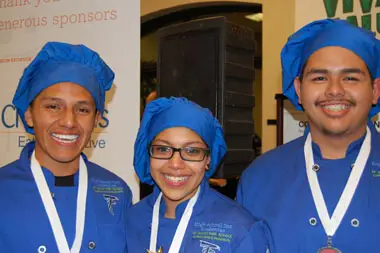 Monica Aguilar, culinary arts instructor at Valley High and business partner with High School Inc., provided an instrumental role in the overall development of the students' customer service skills and program support. While in Washington D.C. as winners, the team and instructor Aguilar attended a special briefing with Arne Duncan, Secretary of the Department of Education, and with members of the U.S. Congress to speak about their experiences with food choices available to students in school cafeterias. The recipes for their meal will become a featured lunch that will be served in the Longworth Cafeteria for Congressional leaders and their staffs. The winning meal prepared by Ashley, Ivan, and Alex included lemon and spinach chicken, Tuscan bean salad, and cinnamon poached pear.
###