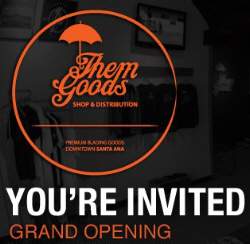 Themgoods Distribution, a retailer of blades and related supplies, is celebrating their Grand Opening on Friday, October 5, 2012, from 12 p.m. to 7 p.m., at 305 East 4th St. #103, in Santa Ana.
The Grand Opening takes place right before the Strange Creatures Premiere at the Yost Theater. 
Featuring
The Shred 'Til You're Dead 2.
Photography Gallery and Book Release Launch.
Photography by Jeremy Stephenson and Brandon Smith.
Food and music.
Contact us: Get@Themgoods.com