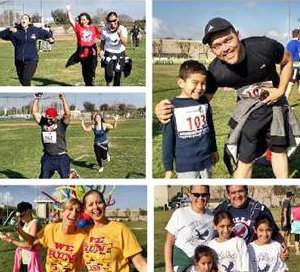 SAUSD's 2nd Annual Healthier U 5K Resolution Run/Walk
Draws 250 Participants on Beautiful Sunny Morning
On the beautiful Saturday morning of January 31, 2015, Santa Ana Unified School District employees joined their friends and family at the district's 2nd Annual Healthier U 5K Resolution Run/Walk held at Godinez Fundamental High School and Centennial Park.
With a start time of 8:30 a.m., participants were geared up and ready to go to demonstrate the importance of physical activity for a healthy lifestyle. It didn't matter if you were a trained runner or casual walker, participants were cheered and motivated along the way to go at their own pace and most importantly, finish the race.
There were incentives for the top winners including a $500.00 prize for first place in the men's and women's categories and school sites. Congratulations to Arielly Conde of Valley High School and Christian Cushing-Murray of Century High School for placing first and Valerie Penunuri of Headstart and Alexis Silvas of Godinez Fundamental High School for placing second followed by Michelle Rodriguez, Ed.D. of Elementary Education, and Jesse Penunuri of Pupil Support Services for placing third.
In the school site category, Segerstrom High School took first place with 31 members, Villa Fundamental Intermediate School with 27 members, and Monte Vista Elementary School with 7 members. After the 5K, all participants were rewarded with a wholegrain pancake breakfast!
###