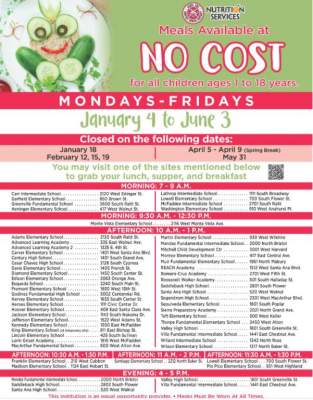 Beginning on Friday, march 5, the SAUSD will be expanding their distribution of free meals to local children to include extra breakfasts, lunches, snacks and "a super snack," which covers dinners, for Saturday and Sunday.
The SAUSD has already been distributing free meals at their schools from Monday through Friday. All local children are eligible for these free meals, regardless of whether or not they attend a district school.
While some school districts in Orange County only provide free or discounted meals to some students, the SAUSD provides these meals to all students.
The SAUSD is currently serving 7,000 to 8,000 children with 28,000 to 32,000 free meals a day.
The meals are available at 56 SAUSD campuses and can be picked up packaged cold or frozen. The Friday packages will now include weekend meals, as of March 5.
The SAUSD is also busing the meals to about 200 children at an apartment complex on Lyon Street that is not serviced by a nearby school.
Today's SAUSD meals include items such as pork or chicken tamales, burritos, pizza and fruit cups.
For more information, click here. The meals are usually offered at local schools between 10 a.m. and 1 p.m.