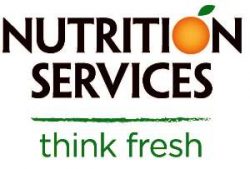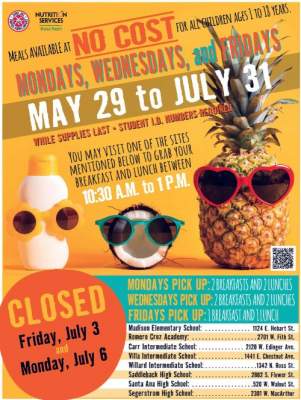 (May 27, 2020) – The Santa Ana Unified School District (SAUSD) is renewing its commitment to providing free, nutritious meals to local children with the launch of its summer meal service program this week.
Under the guidance of the Board of Education, SAUSD has served more than 1 million free meals to children since temporarily closing its campuses in March to help curb the spread of COVID-19.
With the current school year ending on May 28, 2020, SAUSD is continuing to provide for the nutritional needs of local children by hosting its free summer meal program from May 29 to July 31, 2020.
Free meals will be available to all children, ages 1-18 during this time.
Food will be distributed Mondays, Wednesdays, and Fridays, from 10:30 a.m. to 1 p.m. at the following eight locations:
* Madison Elementary School * Romero-Cruz Academy * Carr Intermediate School * Willard Intermediate School * Villa Intermediate School * Saddleback High School * Santa Ana High School * Segerstrom High School
Meal service will be closed on Friday, July 3 and Monday, July 6.
Special precautions will continue to be taken during meal service for the health and safety of all involved. Social distancing will be practiced at all sites, and meals will be distributed in a no-contact, grab-and-go fashion.
For more information on summer meal service, call Nutrition Services at (714) 431-1900.