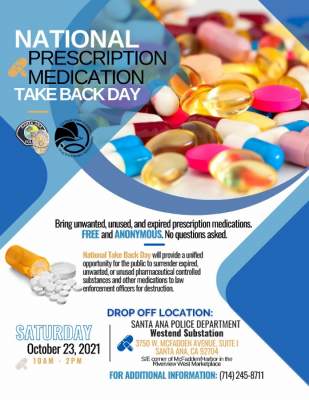 October 23rd is National Take Back Day. You can bring your old, unused & expired medications to the SAPD Westend Substation that day, at 3750 W. McFadden Ave Suite I.
The drug take back is FREE, anonymous and no questions are asked!
The SAPD will accept your old medications from 10am – 2pm.
The National Prescription Drug Take Back Day addresses a crucial public safety and public health issue. According to the 2019 National Survey on Drug Use and Health, 9.7 million people misused prescription pain relievers, 4.9 million people misused prescription stimulants, and 5.9 million people misused prescription tranquilizers or sedatives in 2019. The survey also showed that a majority of misused prescription drugs were obtained from family and friends, often from the home medicine cabinet.