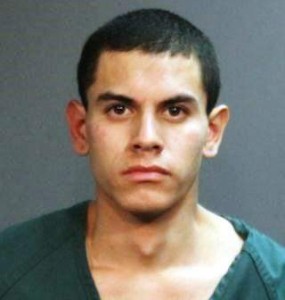 Santa Ana Police Department Advisory: Police arrest Cat Burglar and provide holiday safety tips
On Thursday December 19th at 8:15 PM Officers responded to a call of a Cat Burglary in the 3200 block of South Main Street. The female victim advised she and her husband heard a suspect enter their bedroom through an open window. When the victim checked her bedroom, she saw her purse and two cell phones were missing. Further investigation revealed the suspect had entered the victim's apartment via a bedroom window that was slightly open.
Responding officers were able to set up a perimeter around the apartment complex. Orange County Sheriff's Department Airship "Duke" responded and was able to direct the officers to the suspect who was taken into custody without incident.
The suspect, Paul Edward Robles (18) from Santa Ana, subsequently directed the officers to the two locations where he had secreted the property he had taken from the victim's apartment. The victim's two phones, purse containing bank cards and cash were all recovered. Suspect Robles was booked into Santa Ana Police Department Jail for CPC 459 Residential Burglary.
Santa Ana Police Department wants to remind community members the holiday season is always a special time of year. It is also a time when busy people become careless and vulnerable to theft and other holiday crime. We can never be too careful, too prepared or too aware. Please share this information with family, friends and neighbors.
Be extra cautious about locking doors and windows when you leave the house, even for a few minutes.
When leaving home for an extended time, have a neighbor or family member watch your house and pick up your newspapers and mail.
Indoor and outdoor lights should be on an automatic timer.
Leave a radio or television on so the house looks and sounds occupied
For full details, view this message on the web.