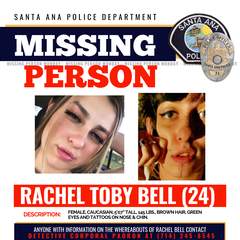 On 12/31/2020, Rachel Bell was seen in the 1800 block of W. 18th Street, where it is believed she was a victim of an assault. Rachel has not been seen or heard from since that day.
Missing Person: Rachel Toby Bell (24) Palm Desert, CA
Description: Female, Caucasian, 5'07" tall, 145 lbs., brown hair, green eyes and tattoos on her nose and chin.
Anyone with information on the whereabouts of Rachel Bell is asked to contact Detective Corporal Padron at (714) 245-8545.