Steven Lopez, 28, of Chino, s Santa Ana police officer, admitted on Wednesday, Feb. 24, to accepting $128,000 in bribes in exchange for shielding an an illegal business from law enforcement.
Steven Lopez, 28, of Chino pleaded guilty to a federal bribery charge as part of a plea deal in which he acknowledged using his law enforcement status to both accept and solicit money from an unnamed business operator.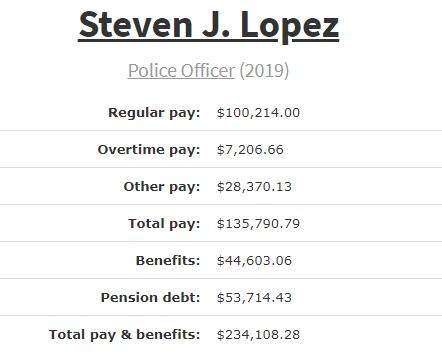 Steven Lopez, 28, of Chino, was charged with bribery in a single-count information filed on Dec. 14, 2020, in United States District Court. In a plea agreement, Lopez agreed to plead guilty to this felony offense.
According to his plea agreement, Lopez served as a police officer with the Santa Ana Police Department (SAPD) from April 2016 to November 2020. From August 2019 until November 2020, Lopez received approximately $128,000 in bribes from an individual – named in court documents as "Co-Schemer 1" – seeking to influence Lopez in the performance of his official duties as a police officer, the plea agreement states. Lopez admitted that he agreed to prevent or stop law enforcement compliance checks at businesses illegally operating under Co-Schemer 1's control, law enforcement efforts to shut down those businesses, and law enforcement searches and seizures at those illegally operated businesses.
In August 2020, Lopez accepted $16,000 in bribes from Co-Schemer 1, the plea agreement states. Lopez further admitted that in September 2020 he solicited a bribe payment of at least $5,000 from Co-Schemer 1, who met Lopez – who was on duty and wearing his police uniform – during the late evening of September 14, on the top floor of a parking structure located directly across the street from SAPD headquarters. During this meeting, Lopez accepted Co-Schemer 1's bribe payment, according to the plea agreement.
On the evening of November 2, Lopez – once again on duty, wearing his police uniform and driving an SAPD-marked vehicle – met Co-Schemer 1 at the corner of First and Fairview streets in Santa Ana, and accepted a $2,500 bribe payment.
Upon entering his guilty plea, Lopez will face a statutory maximum sentence of 10 years in federal prison.
This matter was investigated by the FBI, IRS Criminal Investigation, the United States Postal Inspection Service, the California Department of Justice, and the Santa Ana Police Department.