Santa Ana Police Department
Advisory: SAPD Detectives Request Media And Community Assistance In Locating Wanted Suspect In Attempted Rape Case
Suspect: Gildardo Cortez Martinez (29) believed to be in Orange County area
Synopsis: On 05/21/2017, at 3:34 a.m. , a 25 year-old victim was walking northbound on Broadway Street where she was pulled down the stairwell to the Copper Door and was sexually assaulted. The above suspect has been identified through evidence collected at the scene, as Gildardo Cortez Martinez (29). Martinez has an outstanding warrant for driving under the influence.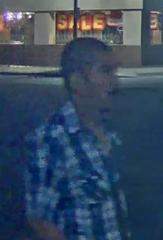 Description: Male Hispanic, 29 years old, 5'08",180 lbs., brown hair, brown eyes, thin build, short black hair, mustache, medium complexion
Location of Occurrence: 225 N. Broadway Street, stairwell to the Copper Door Bar.
Anyone with information as to the whereabouts of suspect Gildardo Martinez please contact Det. Majors (714) 900-4174 or Orange County Crime Stoppers at 1-855-TIP-OCCS.