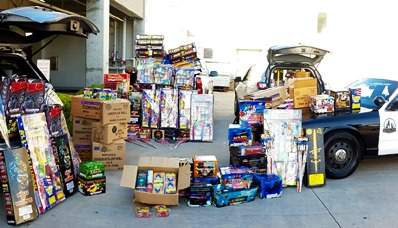 Santa Ana Police Department
Advisory: SAPD Special Enforcement Team conducted several investigations regarding illegal fireworks sales – 3,000+ lbs. seized
On Thursday June 25, 2015 the SAPD Special Enforcement Team-conducted several follow-up investigations regarding illegal fireworks sales throughout the city. The investigations discovered the storage of in excess of 3,000+lbs of illegal fireworks at three different locations. The fireworks were seized and will be transported to the OCSD Bomb Detectives for proper disposal at a later time. There were three suspects arrested, issued citations and released at the scenes. The suspects were charged with violating SAMC 14-53 Dangerous Fireworks Prohibited.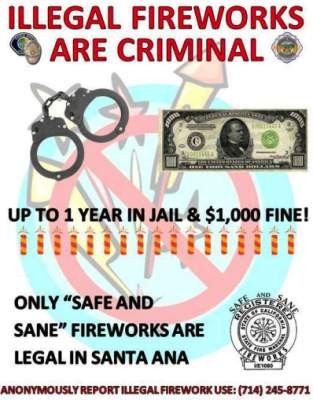 The Santa Ana Police Department wants to remind the community that "Possession and Use of Illegal Fireworks" is a misdemeanor CRIME. Violators may be subject to $1000 fines and up to one year in jail.
Only "Safe and Sane" Fireworks are legal in the City of Santa Ana. Community members can report illegal fireworks use anonymously by calling 714-245-8771.
###