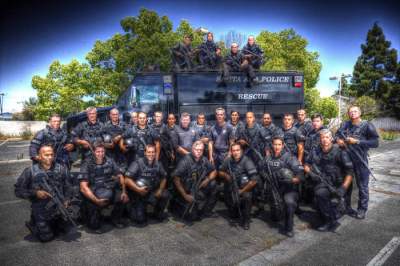 The Santa Ana Police Department's decorated Strike Force, which acted as the city's SWAT team, has been disbanded, by Acting Chief of Police Carlos Rojas, according to an insider who tipped us off this evening.
I am told that Chief Rojas is calling this a budget move but the truth may be more sinister.  Rojas called the Strike Force into a meeting recently and he told them essentially that they had not accomplished anything and that he had heard that they were talking about him behind his back. He told them no one at the SAPD thought the Strike Force was a good idea, which I am told is untrue.  He apparently also belittled them and their past successes.
These guys were effective enough that the customary ride-alongs with SAPD officers had become boring.  They took a lot of bad guys and guns off the streets.  If nothing else, the gang-bangers in town knew that these guys would get them if they stepped out of line.
Needless to say, all the time, training and effort that went into the Strike Force is now a complete waste.   Now you might argue that all of this was overkill to begin with, and you might have a point.  But the money was spent and now we have nothing to show for it.  
Activists are also calling on the SAPD to close the city jail.  While it is true that crime is going down, at least marginally, according to FBI reports, our new Daily Crime Report shows that there are still plenty of bad guys in our city.  We report all of the SAPD's press releases and many of the OCDA's press releases too. That public record also shows that terrible crimes continue to be committed in Santa Ana.
Click here to see a list of the SAPD's Most Wanted Criminals.