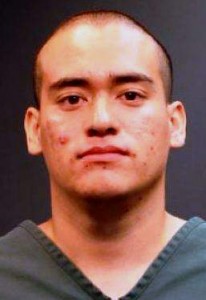 Santa Ana Police Department
Advisory: SAPD Officers Arrest One for Carjacking Looking For Second Suspect And Weapon
Arrested: Yuly Andres Aguayo (22) Santa Ana
On 3/16/15, at 8:53 A.M., officers were dispatched to the Northgate Market located at 1623 W. 17th Street (Ward 3) to investigate a carjacking which had just occurred.
Officers located the victim who told them that he parked his vehicle in the parking lot of the market and noticed the two suspects panhandling. The suspects asked him for money and he told them he was not interested as he entered the store.
The victim returned to his vehicle and proceeded to place his groceries inside when the two suspects approached him from behind. One of the suspects (Aguayo) threatened the victim with a handgun demanding his vehicle keys. The victim feared for his safety and complied. The suspects entered the vehicle and drove away.
A broadcast went out to field officers regarding the incident and a description of the missing vehicle, a 2012 Hyundai Accent, Red in color.
Officers in the area of Edinger and Fairview St. located the victim's vehicle and detained a single suspect driving it. The suspect identified as Yuly Andres Aguayo, was positively identified by the victim as the carjacking suspect who was armed with a gun. The second suspect who has not been located is described as a male Hispanic in his 20's.The weapon used in the carjacking remains at large.
Anyone who may have witnessed the crime or has information regarding the second suspect's identity is asked to contact the Santa Ana Police Department Robbery Detectives at 714-245-8558 or Orange County Crime Stoppers at 1-855-TIP-OCCS
###
Note: Ward 3 is represented on the Snata Ana City Council by Councilwoman Angie Amezcua.