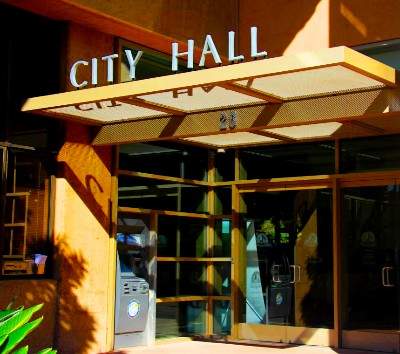 The regular meeting of the Santa Ana City Council is scheduled to begin at 5:45 p.m. tonight, Feb. 18, 2020.
The Council meets in the City Council Chambers, 22 Civic Center Plaza, Santa Ana. A Housing Authority meeting also will take place.
The agenda includes the following matters:
• Appointments to city commissions and committees.
• Adopt a resolution to update and centralize the city's master pay schedule.
• Approve an appropriation adjustment for $140,000 and adopt a resolution approving a relocation plan for Warner Avenue phase 2 improvements between Oak Street and Grand Avenue.
• Adopt a resolution to expand hours of the Flower Park permit parking district.
• Adopt a resolution declaring city-owned property at 625 S. Cypress Ave. as surplus land and directing the City Manager to comply with the requirements for the sale of surplus land.
• Adopt a resolution declaring opposition t o the County of Orange's construction and operation of a homeless shelter on Yale Street and anywhere else in Santa Ana until the County of Orange is operating a proportional amount of shelter beds in the South Service Planning Area as exists in the Central and North Service Planning Areas.
• Approve the fiscal year 2020-2022 Community Development Block Grant Program for a total amount of $7,560,549 for 32 local public service organizations and City programs.
• Receive and file fiscal year 2019-20 general fund mid-year update; adopt a resolution to amend fiscal year 2019-20 budget to add two full-time positions; approve mid-year appropriation adjustments.
• Adopt a resolution accepting a certificate as to verification of signatures from the Orange County Registrar of Voters for a petition to recall Councilmember Cecilia Iglesias and the certificate of sufficiency from the Clerk of the Council; and approve an appropriation adjustment in the amount of $710,000 t o pay for the costs of the signature verification and the special election. Then, either adopt resolutions calling for a special election or direct staff to prepare resolutions calling a special election at the March 3 City Council meeting.
• Designate a voting delegate for the 55th Southern California Association of Governments' regional conference and general assembly scheduled for May 6-8.
• Approve a joint powers agreement with the County of Orange; approve an option agreement and 65-year ground lease with Washington Santa Ana Housing Partners, L.P., for the development of the Crossroads at Washington Project located at 1126 and 1146 E. Washington Ave.; adopt a resolution authorizing the Orange County Housing authority to administer project-based vouchers in santa ana; approve a regional housing needs allocation agreement with the County of Orange; approve a substantial amendment to the neighborhood stabilization program annual action plan.
• Discuss and c onsider directing the City Manager to recognize Santa Ana residents serving in the military.
• Discuss and consider directing the City Manager to develop a homeless work program to provide meaningful work for the homeless.
The full meeting agenda with staff reports is here: https://santaana.granicus.com/GeneratedAgendaViewer.php?view_id=2&event_id=8255
An agenda that can be translated into other languages is available here: https://www.santa-ana.org/sites/default/files/cc/cc-agenda/20200218.html
Meetings are broadcast live on CTV3. Watch CTV3 on channel 3 on Time Warner Cable and channel 99 on AT&T U-verse.
The council meetings are streamed live online in English here:
http://santaana.granicus.com/MediaPlayer.php?publish_id=3
The meetings can be watched in Spanish here:
http://santaana.granicus.com/MediaPlayer.php?publish_id=1