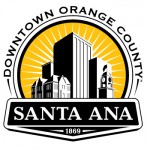 The Santa Ana City Council meeting set for this Tuesday night, April 17, at 5:45 pm, will finally reveal what our City Council majority really intended by trying so desperately to change our election system from an at-large system to a ward-specific one.
Council members David Benavides and Vince Sarmiento have placed an 85 A item on the agenda to "Proceed with Ward Re-boundary process to be prepared for adoption before the start of the 2018 Candidate Nomination Period."
What this means is that the City Council majority, which includes Benavides, Sarmiento, Sal Tinajero and Jose Solorio, are preparing to hire an outside company to justify redrawing the Council/ward maps so they can cut out their chosen enemies. They want to do this so they can benefit their allies, which include former Councilman Roman Reyna and apparently one of Sarmiento's cousins, who will both be on the November City Council ballot.
The City Council majority is also planning to cut through established neighborhood associations when they redraw the wards to thwart their voices and power.
Changing our electoral system never had anything to do with trying to accommodate the city's Vietnamese voters. The City Council majority simply wanted to find a reason to a) extend their term limits and b) change the wards to help them and their allies.
Santa Ana City Councilman Juan Villegas also placed an 85A item on the agenda – as he means to embarrass the City Council majority for their recent Brown Act violation. You might recall that the City Council majority got caught illegally texting each other before a special session of the City Council as they tried to do everything they could to force Mayor Miguel Pulido to support their scheme to extend their term limits.
Santa Ana residents Tim Rush and Debbie McEwen joined Pulido in a lawsuit against the Santa Ana City Clerk to stop her from illegally spending city money on a special election and to set aside the City Council's vote for the district election measure due to their Brown Act violation. You can read their Petition for Writ of Mandate here.