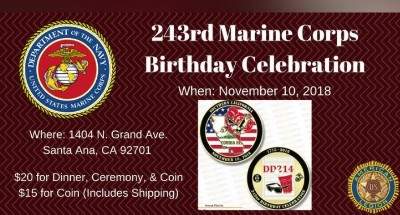 The Tustin Chamber of Commerce is hosting a celebration of the 243rd birthday of the U.S. Marine Corps, at the Santa Ana American Legion, located at 1404 N. Grand Ave., on Nov. 10, 2018.
The event will feature dinner and a ceremony for $$20 plus a special commemorative coin for an additional $15.
There is a nearby hotel that just opened up. Click here for more info. It is located near the Santa Ana Zoo if you are looking for a family getaway.
Unfortunately, this is a 21 and over event and the children must remain at home.
Attire: Casual
Cocktails at 5:30 pm
Dinner at 6:00 pm
Ceremony at 7:00 pm-ish
Happy Birthday, Marines!
Buy your tickets here.