FOR IMMEDIATE RELEASE: May 28, 2015
FOR MORE INFORMATION: Joel Zlotnik, (714) 560-5713; Eric Carpenter, (714) 560-5697
OCTA Offers 30-Day Youth Summer Pass
Teens encouraged to "De-Zombify" this summer by taking OCTA buses to Orange County attractions
ORANGE – The Orange County Transportation Authority is encouraging local teens to "De-Zombify" this summer by getting out into the sunshine and exploring Orange County's many attractions using the OCTA Youth Summer Pass.
For the past 14 years, OCTA has provided a summer bus pass for those 18 and younger as part of a youth ridership program.
For the first time, it's being offered to youth ages 6-18 as a 30-day pass. A pass costs $20 and is valid for unlimited rides for 30 consecutive days between June 1 and Sept. 30.
In addition to unlimited service on OCTA buses, Youth Summer Pass holders will also enjoy discounts on more than 20 entertainment destinations, including the Discovery Cube, Medieval Times and the Aquarium of the Pacific.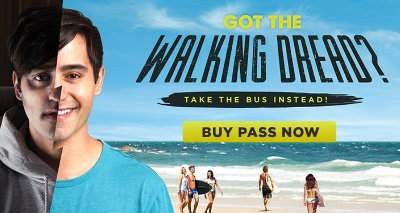 The Youth Summer Pass is on sale now through Aug. 31 online and at Orange County Ralphs, Vons and Northgate Gonzalez Market locations and at the OCTA Store.
As part of this year's promotion, OCTA is also offering a $500 scholarship to one lucky recipient who participates in a photo/video contest. Participants are asked to provide the ending to a short video OCTA created on how to "De-Zombify Yourself" this summer.
Find out more about the contest, the OCTA Youth Summer Pass and the many destinations that can be reached via OCTA bus routes at octa.net/endthezombie.
# # #