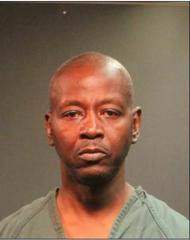 Case # 18CF2809
Date: October 4, 2018
LAW ENFORCEMENT SEEKING POTENTIAL ADDITIONAL VICTIMS OF YOUTH PASTOR CHARGED WITH SEXUALLY ASSAULTING 12-YEAR-OLD GIRL AT CHURCH IN SANTA ANA
SANTA ANA, Calif. – Law enforcement is seeking potential additional victims of a youth pastor charged today with sexually assaulting a 12-year-old girl at a church in Santa Ana.
Defendant: Jonathan Lamont Jenkins, 56, Riverside
Charged today with the following felony counts:
(2) Lewd acts upon a child under 14
(2) Aggravated sexual assault of a child
Attempted lewd acts upon a child under 14
Prior Felony Convictions

Robbery in Los Angeles in 1983
Burglary in Orange County in 1986
Maximum Sentence: 90 years to life in state prison
Arraignment on Oct. 4, 2018, time to be determined at Department CJ-1, Central Jail, Santa Ana
Circumstances of the Case
At the time of the crime, Jenkins had been a youth pastor at Starlight Baptist Church in Santa Ana for two years in a position of trust with access to children.
In January 2018, the defendant is accused of touching 12-year-old Jane Doe's buttocks at church.
In March 2018, Jenkins is accused of holding Jane Doe against her will, threatening her, and sexually assaulting the victim in the church bathroom.
The defendant is accused of attempting to commit lewd acts on then-13-year-old Jane Doe in April 2018.
In July 2018, the defendant is further accused of committing lewd acts on the victim.
The victim's family contacted the Santa Ana Police Department (SAPD) on Oct. 1, 2018. SAPD investigated this case and arrested Jenkins in Santa Ana on Oct. 2, 2018.
Law enforcement believes there may be additional victims and asks anyone with information to contact SAPD Detective Nick Vega at 714-245-8368, or Orange County District Attorney's Office Supervising Investigator Eric Wiseman at 714-347-8794.
Prosecutor: Deputy District Attorney Jennifer Duke, Sexual Assault Unit.