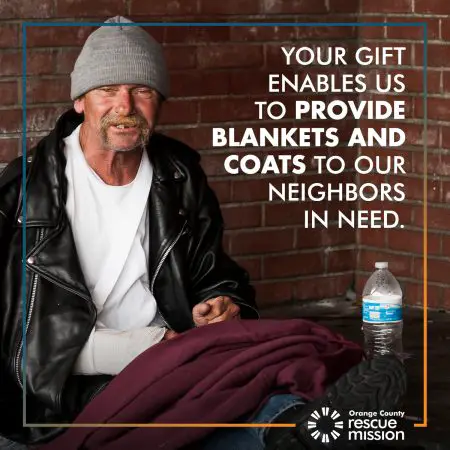 ORANGE COUNTY, Calif., – The Orange County Rescue Mission has announced that it is now accepting donations in the form of virtual currency through Engiven, a cryptocurrency donation management platform that facilitates the safe and secure receipt of these contributions, which will be used to buy necessary items and fund much-needed, life-changing services for those residing at the organization's facilities, according to Jim Palmer, President of Orange County Rescue Mission.
"We live in a digital world and over the last several years we have seen incredible technological advancements, including the advent of cryptocurrency that is highly secure and is being utilized by nearly 1 in 6 Americans," says Palmer. "We are very excited to take part in the world of cryptocurrency and embark on this new method of monetary donations."
Crypto donations of any amount can be made through Orange County Rescue Mission's secure Engiven platform. When donating via Engiven, individuals can select from over 39 supported cryptocurrencies to donate an amount of their choosing to the organization, which Engiven then converts to a donation of U.S. dollars to the Rescue Mission at the time of the transaction. The donor receives a receipt with the value of the cryptocurrency from Engiven at the time of the donation.
"By partnering with Engiven as our designated platform for accepting cryptocurrency donations, we're offering a safe and secure way for individuals to donate and support our mission and values," explains Palmer. "We are proud to be early adopters of this method, with only one percent of nonprofits currently set up to receive cryptocurrency donations."
Contributors also benefit from the tax advantages offered by donating cryptocurrency to nonprofits. Like cash donations, cryptocurrency donations are not a taxable event.
"We are very grateful for the community's assistance to further our mission and values, which aim to provide much needed support to the homeless individuals that reside at our facilities," continues Palmer. "By offering this new alternate way to donate, we are confident we will reach additional giving hearts who are touched by our mission and find cryptocurrency to be the best method for them."
For more information about cryptocurrency donations to the Rescue Mission, please visit: https://platform.engiven.com/give/562/widget/368.
In addition to monetary donations, the organization continues to accept item donations, which can be dropped off at Orange County Rescue Mission's Village of Hope, located at 1 Hope Drive in Tustin, California, every day between the hours of 8:00 a.m. and 5:00 p.m. Alternately, items can also be purchased online and delivered to Orange County Rescue Mission. To view needed items, visit https://www.rescuemission.org/items/.
About Orange County Rescue Mission
Orange County Rescue Mission's goal is to minister the love of Jesus Christ to the Least, the Last, and the Lost of our community through the provision of assistance in the areas of guidance, counseling, education, job training, shelter, food, clothing, health care and independent living communities.
The Rescue Mission was formed as a faith-based organization in 1963. Since that time, the Rescue Mission has shared hope through Jesus Christ to those without hope in Orange County. Our programs are designed to give comprehensive services that move homeless men, women, veterans, and children to self-sufficiency. Its programs and dedication to going above and beyond have earned the organization numerous recognitions including Charity Navigator's highest rating of 4 stars.
To make a donation or inquire about volunteer opportunities with Orange County Rescue Mission, please contact (714) 247-4300 or visit www.rescuemission.org.