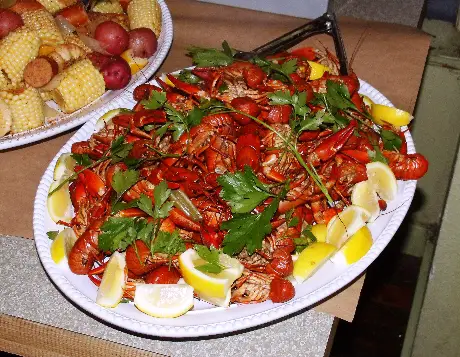 The French began to settle New Orleans in the 1690's.  In 1763 the French sold the area to the Spanish, who rebuilt many of the structures on Bourbon Street after two fires.  If you visit there today you will see that the architecture is mostly Spanish, not French.  As for the cuisine, well it is Cajun – and it is awesome.
I thought of that as I visited the Memphis at Santora restaurant yesterday to partake of Executive Chef Diego Velasco's new Crawfish Boil.  The last time I ate crawfish was when I visited New Orleans in 2005, while I was overseeing the safety of 300 restoration workers, after Hurricane Katrina.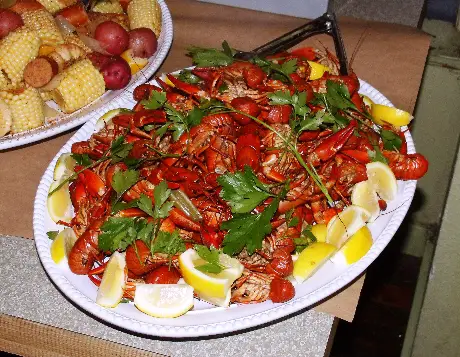 What are crawfish (also known as crayfish)?  They look like little lobsters.  They are found in rivers and streams and in Louisiana they are cultivated in rice fields too.  While folks eat them all over the U.S., they are particularly relished in New Orleans, where they are boiled in water that includes spices and served either cold or right out of the pot.
Velasco served his boiled crawfish with slices of lemon.  A separate platter included boiled corn on the cob, cut into small sections, boiled red potatoes and pieces of savory chicken andouille sausage.  He also provided a Caesar Salad and cold Dixie beer.  Experts say you should drink cold beer when you eat crawfish, so I avoided the complimentary wine.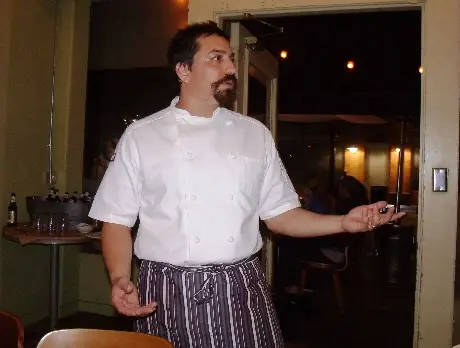 We were also served little corn bread muffins with Velasco's signature BBQ butter.  They were bite sized and delicious!  For dessert we were treated to beignets, the sugary pastries everybody likes.
Crawfish can be a bit frustrating to eat as they don't offer much meat.  You pinch the tail and break it apart, for a tasty morsel, then you rip the head off and chew the bits of meat on the head.  It sounds gross but is good, although it is also a lot of work.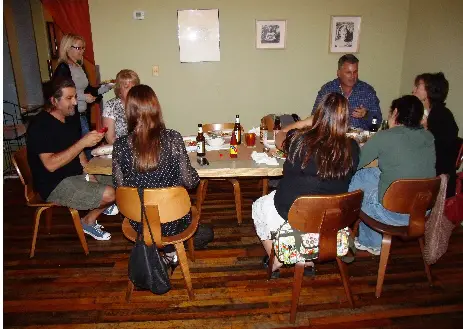 Velasco's publicist, Heather Cereghino (the ACE Agency),  invited a bunch of food bloggers to his crawfish boil so we could check out the new patio and meeting room at the Memphis.  The combined area can hold eight to twenty customers.  The crawfish boil is available for $30, which includes a pound and a half of crawfish per person and one cold Dixie beer per person, plus all the fixings.  You need to make a reservation at least one week in advance.  Minimum eight people in your party!
Velasco is a graduate of CCA in San Francisco with over 20 years of experience.  He is known for creating custom menus utilizing his vast knowledge of world cuisines while sourcing the freshest of locally raised and harvested meat, poultry, seafood and produce.
Click here to check out the Memphis at the Santora on Facebook.