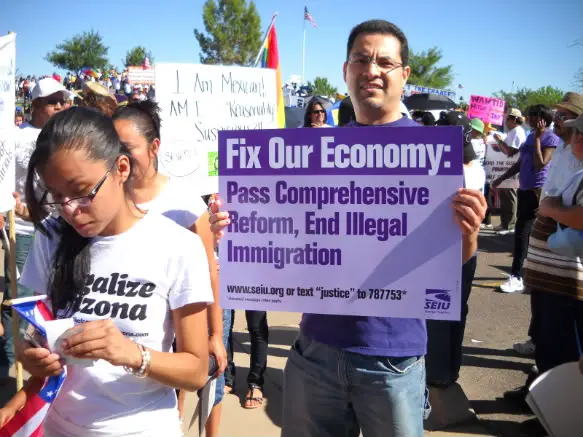 UPDATE: O.C. Register editorial writer Brian Calle weighed in on the Lincoln Club's proposal this Sunday, admitting that "Calls for amnesty for illegal immigrants or even a pathway to citizenship are taboo among Republicans, who fear potential conservative backlash for merely broaching the issue. Yet, 67 percent of all Latino voters, and 64 percent of Latino Republicans, support a pathway policy. And 58 percent of Americans support the same approach."
Martin Wisckol reported this week that the Orange County Lincoln Club, a group of rich Republican businessmen, has "announced an immigration-reform proposal that would provide a path to legal residency for illegal immigrants."  Of course Wisckol reported this without questioning any of it.
That sounds great but it isn't true. Oh sure, the Lincoln Club wants us to think they have broken with the usual GOP hatred of Mexican immigrants, but upon further review their plan is just indentured servitude – without U.S. citizenship.
What the Lincoln Club is advocating is:
Securing the border – of course they don't care about the Canadian border, just the Mexican border.  They don't say as much, but we know how these Republicans roll.
A guest worker program – that establishes residency but not U.S. citizenship.  The last time there was a guest worker program, thousands of Mexican workers got ripped off – when their pay was sent to the Mexican government.  The workers never saw a cent of that money.  In this new plan the Lincoln Club wants the guest workers to file tax returns but they would be excluded from receiving any federal benefits.  That is highway robbery!
Lastly, they want the guest workers to use some kind of smart card so that they can more easily catch and deport other workers.
Latino voters should tell the Lincoln Club and the GOP to stop pandering.  They aren't getting our votes, period.  The Democrats aren't much better – deportations have skyrocketed under President Obama, but they are still preferable to the Mexican-hating Republicans.
Until the Republicans learn to stop hating Mexicans they will continue to lose elections – and eventually their party will become a dwindling third party.