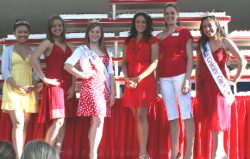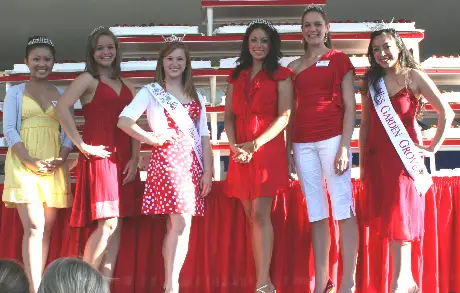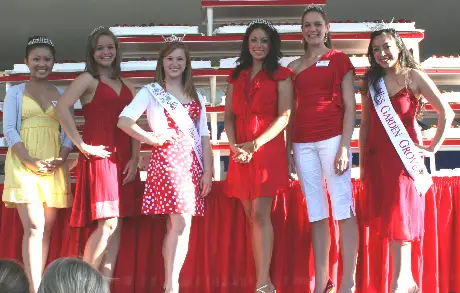 CONTACT: Judy Cooper, 949/640-8828; 949/280-6545 cell; jcpr@pacbell.net
TEN NEW GUT-WRENCHING RIDES DEBUT AT GARDEN GROVE STRAWBERRY FESTIVAL
— Thrill-seekers can ride all day Friday, May 27th for only $25 —
GARDEN GROVE, CA (May 23, 2011) — Ten new rides have been added to the 53rd annual Garden Grove Strawberry Festival's Memorial Day weekend event's line-up of 35 carnival rides. Butler Amusements, which annually provides rides nationally for major fairs and festivals, will this year be bringing to Garden Grove its gut-wrenching Evolution, Fireball, Footloose, Spinning Coaster, Spinout, Wave Swinger, Viper, Eagle 16, Windsurfer and Starship 3000. A list of the other rides, including 16 for young children, are listed on the festival website at www.strawberryfestival.org/events.htm.
WRISTBAND DAY On Friday, May 27th. Visitors to the festival can ride any and all the rides all day for one low wristband price of $25. The remaining festival days – May 28-30 – the cost is $30 per wristband. Festival admission is free.
The four-day Garden Grove Strawberry runs Friday, May 27 through Monday, May 30. Hours are Friday 11 a.m. to 10 p.m., Saturday and Sunday 10 a.m. to 10 p.m. and Monday 10 a.m. to 9:00 p.m. The location is the Village Green between Main Street and Euclid Avenue in downtown Garden Grove.
###
LIVE ENTERTAINMENT AND CONTESTS TO BE FEATURED IN GARDEN GROVE STRAWBERRY FESTIVAL SHOWMOBILE AND AMPHITHEATER
GARDEN GROVE, CA ( May 23, 2011) — Five bands and three dance groups will perform at the 53rd annual Garden Grove Strawberry Festival May 27-30, 2011 in the festival's 550- seat amphitheater and on its portable Showmobile stage. All entertainment is free.
Playing in the Showmobile on Saturday, May 28th will be the Southland Mega Groove Band and the Third Degree Blues Band, on Sunday, May 29th will be the music of Full Spectrum and The Cougrzz, and on Monday, the 30th The Dreams will fill that stage.
In the amphitheater visitors can enjoy the Guardettes Dance Group and Miss Garden Grove and Friends on Sunday and the Colony of Performing Arts on Monday, Memorial Day.
Five contests will also be held in the amphitheater. For a times and a complete schedule of all events, including the annual Tiny Tots King and Queen Contest, the Berry, Berry Beautiful Baby Contest, the Strawberry Idol Karaoke Contest the Redhead Roundup contest, and the new Ooey Gooey Pie-in-the-Face Contest, visit www.strawberryfestival.org.
###