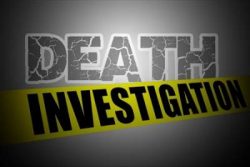 Santa Ana Police Department
Advisory: SAPD and OCDA Investigating In Custody Death

On Wednesday, August 4, 2017 at approximately 9:49 pm, Santa Ana Jail Correctional Officers discovered a U.S. Marshal's Service detainee unresponsive in his cell.
Correctional Officers initiated life-saving measures while awaiting the arrival of OCFA medics. Medics transported the inmate to a local hospital where he was stabilized and ultimately admitted due to his medical condition.
A review of jail surveillance footage did not uncover any suspicious circumstances and all indicators pointed to a medical emergency only.
Later that same night, the U.S. Marshal's Service agents assumed custody of the inmate while he was admitted into the hospital.
On Thursday, August 10, 2017 at approximately 6:56 pm, the inmate, who was still hospitalized, went into medical distress and died.
Upon notification of the inmate's death, representatives from the Santa Ana Police Department Homicide and Professional Standards Unit, and the OCDA Special Assignments Unit responded to investigate.
Cause of death is unknown, however, initial assessment points to probable medical cause, pending post mortem examination for cause of death.