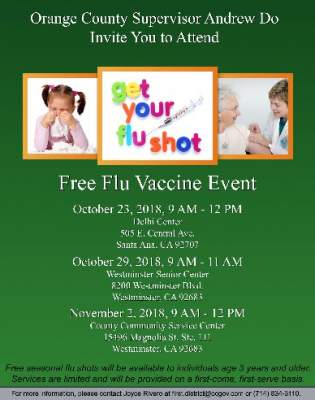 Get your FREE Flu Shot!
Do you still need to get your flu shot this year? Chairman Andrew Do is hosting three FREE flu shot clinics to help the community prepare for flu season. These clinics are open to the public and provide shots at no cost. OC Health Care Agency nurses administer all vaccines on a first come, first serve basis.
The flu or influenza is a serious illness. It is more than just a runny nose and sore throat. The flu can make you very sick and cause you to go to the hospital or even lead to death. The Centers for Disease Control and Prevention recommends that everyone 6 months and older get the flu vaccine (flu shot). You can protect yourself and those around you by getting a flu shot.
Flu Shot Details:
Any questions? Please call Chairman Andrew Do's office at (714) 834-3110.