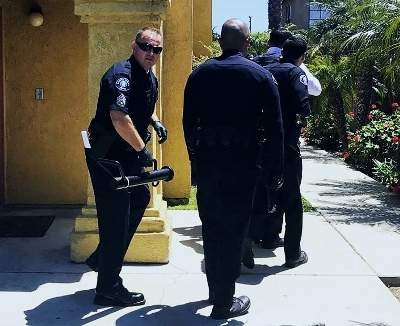 Yesterday, May 16, 2018, at about 1:54 p.m., Costa Mesa police officers executed a search warrant at the 400 block of Hamilton Street, based on multiple calls for service, stops, and narcotics arrests previously made.
Over the course of several months, it became apparent that heavy foot traffic was coming to and from the location. Neighbors expressed concerns regarding the drug activity in the neighborhood stemming from this location.
During the execution of the search warrant, three adults were located inside, along with a 10-year-old girl.
Narcotics were located and ultimately, Laura Ann Nowak, 39, and Edward Clifton Caudle, 28, were arrested for possession of a controlled substance for sale, maintaining a place to sell a narcotic controlled substance, and child endangerment.
Caudle was also arrested for possession of unlawful paraphernalia and a bench warrant. Nicholas Stephen Gonzales, 26, was arrested for possession of methamphetamine. All three are Costa Mesa residents.