Hanging out with Democrats didn't work out for Chris Phan
The field for the First District's Special Election, to replace Janet Nguyen, who was elected to the 34th State Senate District in the November, 2014 General Election, is now set.  The candidates include (appearing below in the order they will be placed on the ballot):
Lou Correa (D-Santa Ana), California State Senator
Andrew Do (R-Garden Grove), Supervisor's Chief/Businessowner
Lupe Morfin-Moreno (R-Santa Ana), Office Specialist
Chuyen Van Nguyen (NPP-Garden Grove), Television News Anchor
Chris Phan (R-Garden Grove), Councilmember/Deputy DA
Phan had a shot at earning the endorsement of the Republican Party of Orange County (OC GOP) tonight but he blew it when he stupidly sat down for an interview with liberal blogger Greg Diamond of the Orange Juice Blog.  Phan made one statement in particular that cost him the endorsement:
Ideologically, I'm a fiscal conservative, but I'm open on social issues. I'm not far right. I'm a pragmatist — I want to do whatever makes sense. For example, I'm not in favor of the Republicans' "No Union money pledge," especially given how many Republicans are in Public Safety unions. And I'm not in favor of "No-Tax" pledge because it's conceivable that in some circumstances there could be no better option — and I won't promise what I don't think I can deliver. I save my absolutes for things like moral integrity.
Oops!  Even if you believe the OC GOP's "No Union Money Pledge" is ill-advised you can't say that and still expect to garner their support.
Oh well.  Phan never had a shot in this race.  And to make sure of that someone sneakily put Chuyen Van Nguyen, a former Joe Dunn staffer, in the race.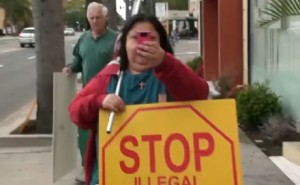 But the Democrats weren't the only ones engaging in funny business with regard to the First District candidates.  Infamous Minuteman Lupe Morfin-Moreno (pictured above) jumped into this race too.  You have to believe that she did so at the behest of Andrew Do and his supporter Janet Nguyen.  It is an obvious attempt to take a few Latino votes away from Correa.  It won't work of course.
The bad news is that the OC GOP endorsed Do, who used to be Nguyen's Chief of Staff.  He is as corrupt as she is and he would be a terrible County Supervisor.
Do has however racked up a lot of endorsements – but he didn't get the support of O.C. Sheriff Sandra Hutchens and O.C. District Attorney Tony Rackauckas.  They are Republicans but they opted to back Correa.
We're backing Correa as well.  He is not a perfect candidate but he isn't the corrupt mess that Do is.  And as noted above Phan has no chance of winning.  Correa is the only reasonable choice in this Special Election.