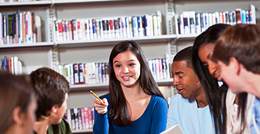 FOR IMMEDIATE RELEASE: May 29, 2015
FOR MORE INFORMATION: Joel Zlotnik (714) 560-5713; Eric Carpenter (714) 560-5697
Teens Invited to Apply for OCTA Council
Applications are open to Orange County high school students and are due July 31
ORANGE – The Orange County Transportation Authority is accepting applications for its teen council, a group that allows high school students to participate in transportation-related discussions and projects with their peers and OCTA staff.
Applications are due by July 31 and can be found at www.octa.net/teencouncil, and at some Orange County high school administrative offices.
Students selected for the council will serve a one-year term and meet monthly during the school year. Members have the opportunity to build leadership, teamwork, critical thinking and communication skills, as well as work with OCTA staff to develop and implement projects. Service on the teen council is an asset to highlight on college applications and resumes.
Teen council members must be 13 to 18 years old as of Sept. 1, 2015, an Orange County resident and attend an Orange County public or private high school. Applicants must submit the teen council application, a personal essay and a letter of recommendation to be considered.
For more information, contact Lauren Thompson by email at lthompson@octa.net, or by phone at (714) 560-5349.
# # #