Update: The missing minor Lizbeth Mateo, who disappeared early this morning from El Festival Club, located at 230 East 3rd Street, in Santa Ana has been located in the City of Anaheim.
Mateo is being reunited with her family.
The SAPD investigation into the circumstances of her disappearance continue.
Mateo lives in Kent, Washington and was visiting her family, at the 500 block of South Cypress, in Santa Ana for the holidays.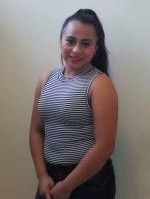 Mateo was with a family member and dancing at the El Festival Club on New Year's Day, 1-1-2016. She was last seen at 1:30 a.m., on 1-2-2016, at the El Festival when she told the family member she was going to the restroom. Mateo never returned to the table and had not been seen or made contact with family members since – until turning up in Anaheim.
One of our readers thought he saw Mateo today at 4:15 this afternoon in Santa Ana, in a gray BMW with dealer plates that turned right on 15th St. on Ross heading towards 17th then turning right again.  Our reader saw a girl on the passenger side of the BMW. She pulled down the window and yelled out "help me, please help me" then driver took off on 17th. We related this information to the SAPD.
Mateo was born on 03-07-1999. She is a 16 year old Hispanic female who stands 5'0 tall and weighs 120 pounds, with black long hair down to her waist and brown eyes.
If you know anything about Mateo's disappearance please contact SAPD Detective Cpl. Judson at 714-245-8331, or after hours the SAPD Watch Commander at 714-245-8700.