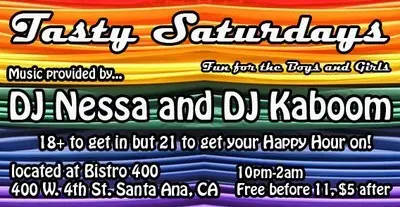 Bistro 400 is launching "TASTY," a spin off of their very successful night BELLA, and as they decide to allow BELLA to get her proper beauty sleep, some of the original production team will continue to open our doors to the Gay and Lesbian Community Making TASTY a fun night for both girls and boys.
18+ to get in, 21 to drink, doors open at 10, FREE before 11pm, $5 after that. Happy, drinks specials and DJ Nessa, DJ Kaboom, and DJ Benzaa keeping dancing all night long. Perfect after party for LA Pride.

Bistro 400
400 W. 4th St.
Santa Ana, California
Saturday, June 11,  at 10:00pm – Sunday at 2:00am
And if you are looking for more info about Santa Ana's growing nightlife, click here to check out our new Santa Ana Nightlife Listings!