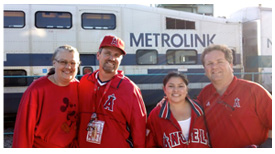 Take the $7 Angels Express to Any 7 p.m. Weeknight Home Game!

Last season, the Angels Express provided service to 46 home games, and had more than 20,000 boardings. This popular service has returned for the 2012/2013 baseball season, with service along the Orange County Line to 50 home games. 
New for 2012/2013:

There will be service from the Inland Empire for all 13 Friday night home games.
Trains will hold after Friday night games, allowing riders to enjoy the Big Bang Fireworks.
The Angels have some new, exciting players, including Albert Pujols and C.J. Wilson.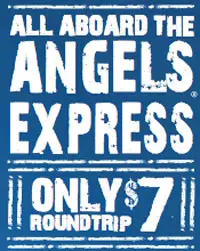 $7 tickets and free game vouchers
Just like last year, Angels Express tickets cost only $7 ($6 for seniors and disabled, and $4 for youth ages 6-18). You will also get a FREE GAME VOUCHER when you purchase your Angels Express ticket online, by phone or at the OCTA Store in Orange.
Join us in Irvine on Friday for a kick-off event
We are celebrating the return of the Angels Express with a free event this Friday, April 6 at the Irvine Metrolink Station. Stop by and enjoy:
Free Metrolink tickets (limited quantity available)
An on-site radio broadcast by Playlist 92.7 FM
Refreshments, provided by Rubio's
Prizes and giveaways
Free ticket distribution starts at 5:00 p.m. Train 643 to Anaheim departs Irvine at 5:59 p.m. and arrives Angel Stadium at 6:20 p.m.
Visit www.octa.net/angelsexpress to learn more.