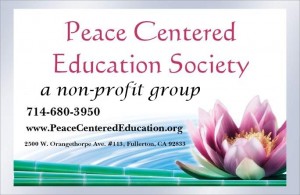 The Garden Grove Tutoring Center was recently opened by the non-profit group, Peace Centered Education Society, which is a group based in Orange County involved with facilitating environmental community service projects and educational field trips for high school and adult students. The teachers and tutors are very qualified and experienced with either a Master's degree or teacher's credential in their area of study.
Popular tutoring sessions focus on everything from several levels of English as a Second Language (ESL) or foreign language instruction to advanced SAT and TOEFL test preparation. The wide variety of tutoring also includes medical and nursing entrance exam preparation. Some students are taking pronunciation and accent reduction as well as professional business English. Because the students receive a lot of customized personal attention from the teachers, the price range of $10 to $15 per hour for small group and semi-private tutoring seems very reasonable.
The English language program, called the International Culture and Language School is designed to combine English as a Second Language instruction together with culture. For example, the school is located in the Historic Main Street area of Garden Grove, and it's just a short walk to the Festival Amphitheatre where they do the Orange County Shakespeare in the Park during the summer. So, one of the teachers at the school has put together a Shakespeare class for English language learners that live in the community and then they can walk down and watch the play together.
The innovative 'hands-on' learning approach allows students an opportunity to learn outside of the classroom if they chose to volunteer with the Adopt-A-Park program in the Orange County Regional Parks. The Tutoring Center is open 7 days a week but sometimes it's by appointment only, so please call before you come for a free trial lesson. It's across from Costco on the corner of Main Street with free parking on the west side of the building. Contact information for the Tutoring Center:
Peace Centered Education Society
10971 Garden Grove Blvd. #C, Garden Grove, CA 92843
714-530-5533
www.OrangeEnglish.org
www.PeaceCenteredEducation.org
Aaron Kelly
President of Peace Centered Education Society