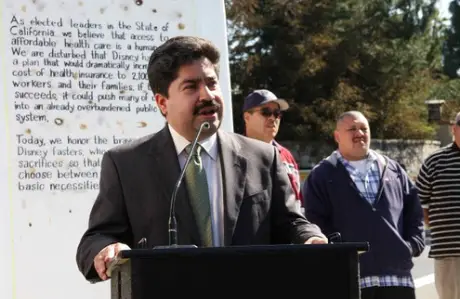 Upcoming "Capitol in Your Corner" Events
Please accept this opportunity to meet one-on-one with Assemblyman Solorio and other local elected officials to talk about important legislative, city and school issues that are of interest to you by attending a "Capitol in Your Corner" event.
Friday, November 19th
9 a.m. to 11 a.m.
La Casa Garcia Restaurant
1201 W. Lincoln Avenue
Anaheim, CA 92801
* Complimentary breakfast and coffee will be provided
Sunday, November 21st
9 a.m to 11 a.m.
Crepe Corner
9329 Bolsa Avenue
Westminster, CA 92683
* Complimentary pastries and coffee will be provided
Saturday, December 4th
9 a.m. to 11 a.m.
The Mill Bakery
312 South Main Street
Santa Ana, CA 92701
* Complimentary pastries and coffee will be provided
About Assemblyman Jose Solorio
State Assemblyman Jose Solorio has as inspiring personal story to share.
The son of migrant farm workers, Assemblyman Solorio has grown from a teenager who labored in the fields alongside his parents, to an outstanding student who earned a master's degree in public policy from Harvard University, to now a respected elected official who represents central Orange County in the California State Assembly.
Assemblyman Solorio focuses his legislative efforts on education, public safety, job creation, and improving California's water and transportation infrastructure.
In his first year in office, Assemblyman Solorio successfully worked with Governor Schwarzenegger and legislative leaders to author and co-author laws to reform state prisons, create the state's first gang czar office, and make it easier for cities to file injunctions against gangs.
Assemblyman Solorio also has authored significant education laws. Thanks to his legislation in this area, California now has a new strategy to improve the way we measure student academic growth, new opportunities to train teachers to use data to improve classroom instruction, and a course of action to reduce the high price of college textbooks. He also champions efforts in Sacramento and Orange County to help English Learners learn English more quickly.
As someone who understands the value and the power of a college education, Assemblyman Solorio is dedicated to making college more accessible. As one example of his personal commitment, he has partnered with the Orange County Leadership Fund to launch Solorio Scholars. Solorio Scholars is a new program created to inspire more high school students from central Orange County to apply for college.
Frequently asked why he dedicates so much time and effort to the community, Assemblyman Solorio responds by reciting one of Cesar Chavez's famous quotations, "The end of all education should surely be service to others."
Do you have ideas for information that you would like to see in the E-Newsletter? Please contact Carol Chamberlain, E-Newsletter editor, at carol.chamberlain@asm.ca.gov or (916) 319–2069.