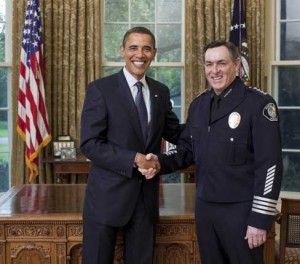 Three candidates appear to be in the running at this point to become Interim Santa Ana City Manager, including SAPD Chief Paul Walters; Parks and Rec Director Gerardo Mouet; and Jan Perkins, a contractor.
It also appears that one of them will become the first Assistant Santa Ana City Manager.
All of these candidates have something to offer.  Mouet has really proven himself as an administrator while slashing his agency budget and still managing to increase service to the public.
Walters did a fine job overseeing the construction of the SAPD headquarters and jail a few years ago.  Like Mouet he has become an expert at making do with a smaller budget.
I don't know Perkins, but as a contractor she can be fired at any time, which might appeal to the Santa Ana City Council.
Mouet appears to have the blessing of recently retired Santa Ana City Manager Dave Ream, who is now a consultant to the City.
If Walters is selected, it will be interesting to see who takes over as the new Chief of the SAPD.  His current assistant is Carlos Rojas, who might well become the first Latino SAPD Chief.