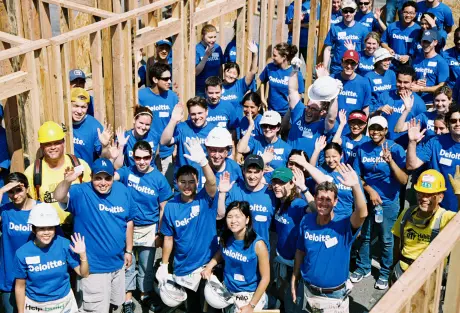 NEARLY 300 DELOITTE VOLUNTEERS SUPPORT SANTA ANA'S SCHOOLS
Organization's 12th annual IMPACT Day highlights long-term commitment to local school district
For the past twelve years, Deloitte volunteers have donated their expertise toward improving education in SAUSD schools. To date, Deloitte volunteers have impacted over 8,000 Santa Ana students.
On Friday, June 10, nearly 300 professionals from Deloitte's Orange County office once again will put work on hold to volunteer at Santa Ana schools. At Jackson Elementary School, Deloitte volunteers will introduce students to the concepts of workforce readiness, entrepreneurship and financial literacy through a series of Junior Achievement courses, as well as give the campus a makeover. Meanwhile, at Sierra Preparatory Academy, volunteers will host a math camp to teach students how math comes into play in real-world situations. Volunteers will use an interactive game show format to engage 100 sixth grade students.
Deloitte volunteers are using the occasion of the 12th annual IMPACT Day, its national day of community service, to host these events. These are two of several volunteer events in Orange County and part of a national effort hosted by Deloitte in more than 70 communities across the country on June 10. Nearly three-quarters of the organization's personnel, which numbers more than 50,000 in total, are setting aside their work to volunteer at more than 800 events nationwide.
# # #