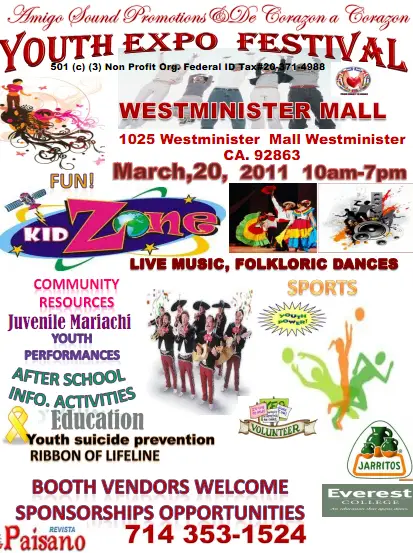 FOR IMMEDIATE RELEASE
CONTACT: Verónica Díaz, Phone: 714 353-1524, e-mail vdwriter5@yahoo.com.mx, info@fromhearttoheartfoundation.org
YOUTH EXPO FESTIVAL 2011, "De Corazón a Corazón"
Westminster, CA – From Heart to Heart foundation & Amigo Sound Promotions are pleased to announce Youth Expo Festival.
SUNDAY, March 20, 2011 10am- 7pm at Westminster Mall located (parking lot & 405 freeways). 1025 Westminster mall ca 92863.
Media is highly encouraged to come out and witness this event, the day provide an opportunity for parents and families to be informed and linked with the many organizations which benefit Westminster and all Orange County Youth various agencies and non-profits organizations, benefactors, that are dedicated to working with youth and families will be participating by providing resources, information and giveaways at the Youth Expo Festival will feature performances, juvenile mariachi, ballet folkloric, guest performances, and sport celebrities.
From Heart to Heart foundation has a vision to connect the Youth and their families with those providers who seek to empower, enlighten, and encourage them. From Heart to Heart foundation and Amigo Sound Promotions are particularly pleased about this Youth Expo Festival adding that "It will foster of unity and collaboration as various youth organizations join together with the purpose of combining goals and coordinating efforts here in the City of Westminster and all Orange County areas.
For more information contact: Veronica Diaz/Media Event Department, email: vdwriter5@yahoo.com.mx, 714 353-1524