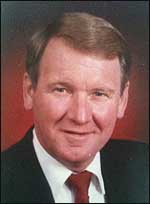 The man who served as Chief Paul Walters training officer when Walters first joined the Santa Ana Police Department has passed away following a prolonged battle with cancer.  Retired Sanger PD Chief Greg Cooper (and former Santa Ana Police Lieutenant) passed away at his home in Tustin, CA on Thursday, May 26th.
Cooper, who served honorably with the Santa Ana PD from1967 to 1992,  had been battling ocular melanoma and, subsequently, liver cancer for the past several years.  He had recently been hospitalized but chose to return home on Thursday and was surrounded by family and close friends at the time of his death.
He left Santa Ana to become the Chief of the Sanger Police Department from 1992 to 1996.  Sanger is located in Fresno County about 13 miles outside the city of Fresno and is known as "The Nation's Christmas Tree City".
In addition to his active duty policing career, many California Police Chiefs and Sheriffs interacted with Greg in a variety of other capacities.  He was instrumental in furthering the outreach efforts and providing training and technical assistance as an Assistant Director in the COPS Office at USDOJ (1996-2002).  He later served as the Chief Security Officer/Director of Security for FEMA and the subsequent integration of that agency into the Department of Homeland Security during his time there (2002-2008).  Greg was also recognized as a subject matter expert and was often called upon by POST to provide training throughout the state in SWAT, the Incident Command System and Community Policing.
Greg was also a Sergeant in the USMC (1963-1967) and a Vietnam veteran.
A viewing will be held on Monday, May 30th from 4:00 – 8:00 PM at the Saddleback Mortuary, 220 East Main Street, Tustin, CA 92780.
Funeral services will take place on Wednesday, June 1st at 11:00 AM at Red Hill Lutheran Church, 13200 Red Hill Ave., Tustin, CA 92780.
Greg was originally from Minnesota so an additional service will be held in St. Paul, Minnesota on June 6th at 10:00 AM at the O'Halloran and Murphy Funeral Home, 575 Snelling Avenue, St. Paul, MN 55116.  Final internment will be at 12:45 at Ft. Snelling.
Should anyone wish to make a donation in Greg's memory, his family has indicated his charities of choice would be the Wounded Warrior Program and Habitat for Humanity.
Click here to read Cooper's obituary, from the Aitkin Independent Age newspaper.