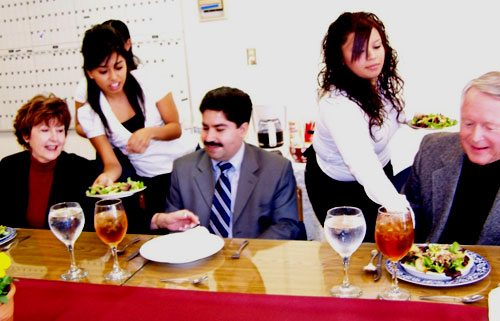 PRESS RELEASE
Contact Person: Sharon Gomez, Program Director
Office: (714) 541-5353 x118 / Cell: (714) 981-1796 Sgomez@SantaAnaChamber.com
Extreme Kitchen Makeover, High School Inc.
Culinary delicacies of Spain, a Tapas Party is being held on Friday, September 10, 2010, at 6:00 p.m., Hilton Anaheim, for the High School Inc., Culinary Arts & Hospitality Program.
This is a first-time fund-raiser for the outdated kitchen at Santa Ana Valley High School. 10th – 12th grade students are being trained to enter into the workforce to start a career in the food and customer service jobs for Southern California.
The Santa Ana Chamber of Commerce workforce development program, High School Inc., works with Santa Ana Valley High School students. The school was adopted to become the education to work & college training program.
Three years ago several industries were identified as future high employment needs to sustain the economy and the 2,400 students are a vast group to tap.
The High School Inc. Program has interested students, but the school has a great need to upgrade the kitchen that was originally designed for homemakers of the 1950's. "Back in the day" when the school was built, during the era of U.S. President Harry S. Truman, the kitchen was for the Home Economics class, however, modern times, the 21st century demands for training with industrial culinary equipment and facilities.
Restaurateurs, executive chefs, and business owners have seen the kitchen and students, they lent their support for the Extreme Kitchen Makeover. The fund-raiser seeks support and below are some event sponsors:
Executive Chef Fred Mensinga, Hilton Anaheim
Natalie Vishny, Swellegant Consultant
Terranea – L.A.'s Oceanfront Resort
Janet Murray CommAlliance Telecommunication Systems, Owner
Sharon's & Sons, Sharon Barlow, Owner
ALLSTATE, Andres Batta, Financial Services
Santa Ana Chamber of Commerce, Dale Ward
The public is welcome to attend the Tapas party at $40 per person or to provide contributions. For more information click here.
###