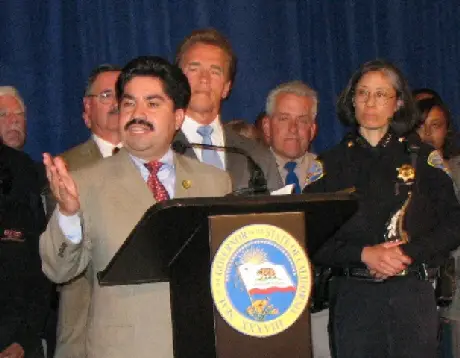 For Immediate Release: April 28, 2011
For More Information Contact: Carol Chamberlain – Office: (916) 319-2069, cell: (916) 804-5355
Solorio's Commitment to Fight Gangs Continues with Passage of AB 220
Bill Would Prioritize Anti-Gang Programs Proven to be Effective
Sacramento – State Assemblyman Jose Solorio's (D-Anaheim) effort to curtail gang and youth violence took another step forward today with the passage in the Assembly of AB 220. The bill would require the Governor's Office of Gang and Youth Violence Policy (OGYVP), with the assistance of a working group, to prepare recommendations to the Governor and Legislature on how to streamline funding and grants for anti-gang and youth violence programs, and to prioritize the programs which are evidence-based. The bill received unanimous support in the Assembly and now heads to the Senate.
"With an eye toward efficiency in government, our statewide strategy to fight gang violence should focus on programs that work," Solorio said after the Assembly vote. "The California Department of Justice estimates that there could be as many as 300,000 gang members in the state. We need to do everything possible to reduce that number and the violence and harm to communities that it represents," he added.
In 2007, Assemblyman Solorio joined then Assembly Speaker Fabian Núñez, as a co-author of the bill that created the Office of Gang and Youth Violence Policy. He also joined Governor Schwarzenegger in launching the California Gang Reduction, Intervention, and Prevention Program (CalGRIP). OGYVP and CalEMA have distributed $27.6 million to 38 cities and 25 community-based organizations through three rounds of CalGRIP grants, including more than $2 million in grants to Orange County, Anaheim, Garden Grove and Santa Ana, to fight gang activity in their communities.
" At a time when state resources are dwindling, it is important for the State to ensure that the existing efforts aimed at addressing gang and youth violence are yielding maximum results," says Solorio. "AB 220 will help in that effort by identifying and rewarding programs with a track record of reducing recidivism, and reducing gang violence."
State Assemblyman Jose Solorio is the Chair of the Assembly Insurance Committee and also serves on the Assembly Appropriations and Transportation committees. He represents the Sixty-Ninth Assembly District, which includes the cities of Anaheim, Garden Grove, and Santa Ana. For more information about Assemblyman Solorio, visit www.assembly.ca.gov/solorio.
###
State Assemblyman Jose Solorio represents the cities of Anaheim, Garden Grove and Santa Ana. To learn more about State Assemblyman Solorio and his legislative work, visit his official website. This e-mail communication was authorized and paid for by Jose Solorio Assembly Officeholder Committee, ID 1337257, P.O. Box 26063, Santa Ana, CA, 92799.