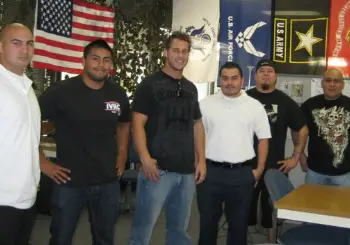 A "Soldiers to Scholars Reception" will be held at Santa Ana College's Orange County Sheriff's Regional Training Academy, located at 15991 Armstrong Ave., Tustin, CA, on Thursday, September 15, from 6:00-8:30 p.m.
Meet our veterans and enjoy an evening of music, food and wine.
Corporate Sponsorships: $5,000
Donations: any amount up to $5,000
Individual tickets: $50
Proceeds from the reception will assist the Veterans Resource Centers expand and support local servicemen and women with their education and career training at Santa Ana College and Santiago Canyon College.
About the Veterans Resource Center
The Veterans Resource Center (VRC) at Santa Ana College (SAC), which opened in spring 2010, supports veterans from both colleges who are making the transition from military service to college and civilian life as well as active duty personnel and their dependents. Additionally, in fall 2011 Santiago Canyon College (SCC) will commence offering veteran services through the financial aid office and will be fully operational by spring 2012.
The VRC staffs and volunteers strive to ensure that our veterans make the most of their college experience by utilizing the services that are available to them, both on and off campus.
The VRCs provide the following services:
Access to a Certifying Official to assist veterans with accessing Veterans Assistance (VA) educational benefits,
Specialized academic counseling to develop educational plans to meet VA benefit requirements,
Customized orientation and academic skills workshops for veterans, and
Quiet study area with access to computers, internet and printer.
Other programs and services available to veterans through the VRCs include: priority registration, accommodations for veterans with disabilities, distance learning, board of governors fee waiver, in-state tuition waiver, access to the college's child development centers, work study/campus job opportunities, and health & wellness services.
To learn more about the VRC, visit us online or call (714) 564-6050.
Other Resource(s) for veterans: