Did you know that Santa Ana's popular Cinco de Mayo and Fiestas Patrias festivals used to be run by local businessmen and volunteers?  That was before the City of Santa Ana decided to hire a promoter, MX Live, to run these events.
But is MX Live really doing a good enough job to justify this corporate takeover?  Check out their website,their Facebook Page and the City's website, and you will find that there is no mention of this year's Fiestas Patrias, which are coming up in mid-September – just a few weeks from now.  What gives?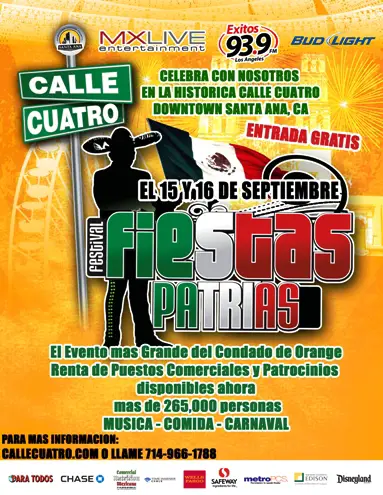 While MX Live has booked a lot of musical acts over the past few years the events have become more about cheap carnival rides and booze gardens, with very little cultural aspects, which is a darn shame.
Isn't it time to return control of these events to the community?  Consider that the Annual Noche De Altares (Dia de Los Muertos) event is run by volunteers – not by Downtown Inc., the City or MX Live.  And that event is awesome – with plenty of art and culture.
The City Council is going to be deciding soon who will be their next event promoter.  Forget it!  Let the community run these events and let's give the boot to the "professional" promoters.