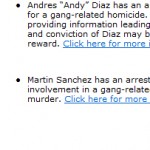 Photos above courtesy of the Santa Ana Police Department's Most Wanted website
State Senator Lou Correa is hosting an "Orange County Youth Gang Assessment" forum this Tuesday, May 25. This will be a collaborative event between local non-profits, law enforcement agencies and Senator Correa, to obtain a current picture of youth delinquency in the Orange County community.
The first forum will feature the non-profit community, while the forum on Friday, May 28 will feature local law enforcement agencies. This forum is FREE and open to the public. Guests can attend as much or as little of the event as they'd like. Contact Senator Correa's District Office for more information at (714) 558-4400.
Non-profit speakers include:
Santa Ana Boys and Girls Club
O.C. Bar Foundation
Phoenix House
CUT Studios
CSP Inc.
Lives Worth Saving
Orange County Human Relations Commission
Law Enforcement speakers include:
Orange County Sheriff's Deparment
Fountain Valley Police Department
Santa Ana PD-Gang Unit
Westminster P.D.
Orange County District Attorney's Office
Brea Police Department
Huntington Beach Police Department
Date: Tuesday, May 25, 2010
Time: 7:30am – 5:00pm
Location: Rancho Santiago Community College District Building
Street: 2323 N. Broadway Street
City/Town: Santa Ana, CA