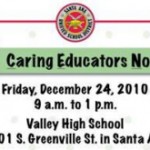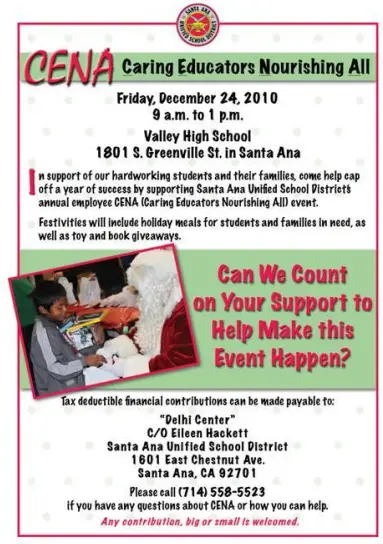 SAUSD Employees Respond to Needs of Families in Santa Ana
SANTA ANA, CA – December 16, 2010 — The Santa Ana Unified School District (SAUSD) Board of Education, employees, friends and supporters will once again host their annual free Christmas Eve feast to serve families in Santa Ana on Friday, December 24, 2010. The event will take place from 9 a.m. to 1 p.m. at Valley High School located at 1801 Greenville St. in Santa Ana.
Called CENA — Caring Educators Nourishing All — the annual charitable event is organized by SAUSD employees to provide a full holiday meal, toys, and books to area children and families to help make their holiday a memorable one. The effort has been put on for more than 20 years, resulting in over 40,000 served meals and hundreds of toys given away.
Dozens of SAUSD employee volunteers along with their families start their holidays off with the traditional CENA event by volunteering for several hours on Christmas Eve beginning at dawn. Volunteers decorate the school, serve more than 2,000 meals, supervise toy and book selections and help clean up when the day is done. It's a tradition for eager community families to line up around the block waiting hours before the first meals are served beginning at 9 a.m. A visit from Santa adds to the day's festivities.
"We've been hosting this special event for more than 20 years because employees continue to see the need to help others who may be going through difficult times," said Board of Education Clerk Dr. Audrey Yamagata-Noji. "They willingly give of themselves and their blessings so that others may also enjoy some holiday cheer. It's really a heartfelt gesture," Dr. Yamagata-Noji said.
Santa Ana Unified serves 58,000 students in grades K-12 and employs 5,000 educators and staff members representing 61 school sites in Santa Ana. For more information about SAUSD, log on to www.sausd.us.
###
Refer to the attached FLYER for additional information.