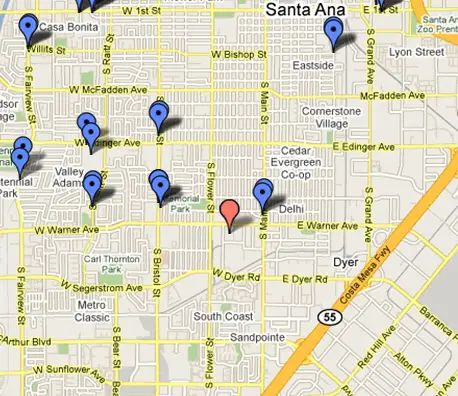 The blue marker above are past SAPD DUI checkpoints.  The next one is coming this Saturday, at the pink marker.
The Santa Ana Police Department (SAPD) will be conducting a DUI/driver license checkpoint on Saturday, April 10, from 7:30 p.m. to 1 a.m., near the area of 500 W. Warner Ave., which lies just west of the historic Delhi Neighborhood, according to Theresa Cisneros, of the O.C. Register, in a Facebook comment.
As you might recall, I researched all of the DUI checkpoints conducted by the SAPD over the past two years and disclosed in a post on this blog that they never set up checkpoints in the extreme northern and southern areas of our city.  They set them up in Latino neighborhoods.  In my opinion, this is done so more cars can be seized from immigrants, although the SAPD says otherwise.
The numbers however don't lie.  There have been 115 DUI arrests, out of over 17,000 vehicles that have passed through the checkpoints. Of those vehicles, 4,573 were actually screened, on a random basis. Only 125 field sobriety tests have been conducted.
In that same time period, 455 vehicles were impounded. Now you figure that a third of those were the DUI arrests, although in some cases the drivers were allowed to leave their cars at the checkpoint for their family to pick up.  But that still left about 300 folks without their cars.  They had to pay the City a lot of money to get their cars back!
So be sure to tell your friends, neighbors and family to avoid the area of 500 W. Warner, on Saturday night.  Don't even get close.  The cops lie in wait all around these checkpoints.
Here is the official release from the SAPD regarding this DUI checkpoint:
The Santa Ana Police Department will be conducting a DUI/Driver License checkpoint on Saturday April 10th, 2010. It will begin at 7:30 PM and is scheduled to conclude at 1:00AM. It will be conducted in the area of 500 W Warner Ave.
In an effort to reduce the number of persons killed and injured in alcohol involved crashes, DUI checkpoints are conducted to identify offenders and get them off the street, as well as educate the public on the dangers of impaired driving. By routinely conducting these publicized and highly visible DUI enforcement activities, the Santa Ana Police Department believes motorists can be deterred from drinking and driving.
Traffic volume and weather permitting, all vehicles may be checked and drivers who are under the influence of alcohol and/or drugs will be arrested. Our objective is to send a clear message to those who are considering driving a motor vehicle after consuming alcohol and/or drugs – Drunk Driving, Over the Limit, Under Arrest. The public is encouraged to help keep roadways safe by calling 911 if they see a suspected impaired driver.
Funding for this operation is provided by a grant from the California Office of Traffic Safety, through the National Highway Traffic Safety Administration.
Officer Weston Hadley
 714-245-8216