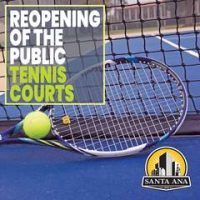 The City of Santa Ana has reopened its public tennis courts at parks with restrictions.
New tennis court rules designed to prevent the spread of COVID-19 and protect public health include:
• Single play only. No doubles play allowed.
• Face coverings are required when entering and exiting courts.
• No congregating on or near the courts before or after play.
• No private lessons are permitted.
• Non-tennis activities on the tennis courts are prohibited.
• Do not play if you are exhibiting any illness symptoms or have been in contact with someone diagnosed with COVID-19 in the previous 14 days.
Tennis courts will be open at the following locations:
• Cabrillo Park
• Morrison Park
• Portola Park
• Sandpointe Park
• Santiago Park
• Windsor Park
Cabrillo Tennis Center and local golf courses have already reopened.
The Parks, Recreation and Community Services Agency also will begin accepting filming permits for essential services beginning Tuesday, May 26.
For more information on City parks, please visit www.santa-ana.org/parks.
Las Canchas de Tenis de Santa Ana Reabren con Restricciones
La Ciudad de Santa Ana ha reabierto las canchas públicas de tenis en los parques con restricciones.
Las nuevas reglas de canchas de tenis, diseñadas para prevenir la propagación de COVID-19 y proteger la salud pública, incluyen:
• Solamente la jugada individual. No se permite la jugada de dobles.
• Se requiere usar cubrebocas al entrar y salir de las canchas.
• No se debe congregar en o cerca de las canchas antes o después de jugar.
• No se permite las clases privadas.
• Están prohibidas las actividades que no sean de tenis en las canchas de tenis.
• No juegue si presenta usted síntomas de enfermedad o ha estado en contacto con alguien diagnosticado con COVID-19 en los 14 días anteriores.
Las canchas de tenis estarán abiertas en los siguientes lugares:
• Parque Cabrillo
• Parque Morrison
• Portola Park
• Parque Sandpointe
• Parque Santiago
• Parque Windsor
El Centro de Tenis Cabrillo y los campos de golf locales ya han vuelto a abrir.
La Agencia de Parques, Recreación y Servicios a la Comunidad también comenzará a aceptar permisos de filmación para servicios esenciales a partir de martes, 26 de mayo.
Para obtener más información sobre los parques de la Ciudad, visite www.santa-ana.org/parks.