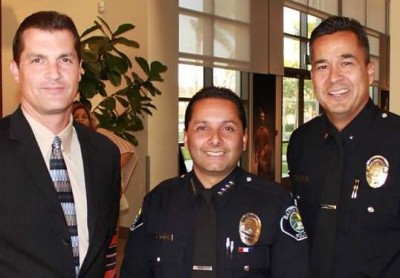 Santa Ana's police officers have had enough of their Police Chief, Carlos Rojas.  They requested a vote of no confidence during the Oct. 8 meeting of the city's police officers association, according to the Voice of OC.
Rojas claims to not know why his police officers are upset – which underscores how out of touch he is.
One of the big reasons the local police officers are unhappy is the chronic understaffing at the SAPD. The Voice of OC also reports that the officers "are also upset over what they call overzealous attempts at holding them accountable for misconduct."
We are not fans of Rojas – it bothers us that he became our Chief of Police with zero executive experience (besides being a temp Chief here in Santa Ana for two years).  But we hope the police union is not mad about the investigation into the behavior of the cops who raided a medical marijuana dispensary a few months ago and while wrecking it apparently stopped to eat the pot edibles.  Those cops should all be fired!
Gang violence in our city is out of control – and our City Manager, David Cavazos, seems to only care about getting paid huge bonuses and snuggling up with city employees.
The City Council is also asleep at the wheel.  We really need to clean house at City Hall.