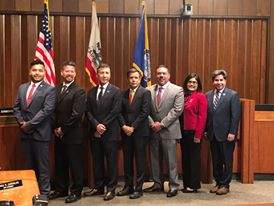 City of Santa Ana

Advisory: City of Santa Ana Welcomes Three New Members to the City Council
SANTA ANA, CA – At a Special Meeting of the Santa Ana City Council held on December 11, 2018, the City Council reorganized as follows: Mayor Miguel Pulido's swore in as the re-elected Mayor, the election of Councilmember Juan Villegas as the City's new Mayor Pro Tem, and the swearing in of three new Councilmembers: David Penaloza (Ward 2), Roman Reyna (Ward 4), and Cecilia Iglesias (Ward 6).
During the meeting, outgoing Mayor Pro Tem Michele Martinez and Councilmembers Sal Tinajero and David Benavides were all honored for their achievements and their exceptional public service to the residents of the City of Santa Ana during their tenure on City Council.
A list of the reorganization with terms of office for each City Council member includes:

Mayor Miguel Pulido – Term Expires 12-2020
Mayor Pro Tem Juan Villegas – Term Expires 12-2020
Councilmember Cecilia Iglesias – Term Expires 12-2022
Councilmember David Penaloza – Term Expires 12-2022
Councilmember Roman Reyna – Term Expires 12-2022
Councilmember Vicente Sarmiento – Term Expires 12-2020
Councilmember Jose Solorio – Term Expires 12-2020
Please visit the City's website to view the video recording of the December 11 Council meeting. For more information on the City Council reorganization, please call (714) 647-6900 or email citycouncil@santa-ana.org.
About City of Santa Ana
Santa Ana is downtown for the world famous Orange County, California. As the County Seat, home to a vibrant evening scene and one of the most diverse communities in California, Santa Ana is gaining national attention for its efforts to innovate and address a changing County. Over 1,200 City employees work hard every day to deliver efficient public services in partnership with our community to ensure public safety, a prosperous economic environment, opportunities for our youth, and a high quality of life for residents. Learn more at http://www.santa-ana.org.