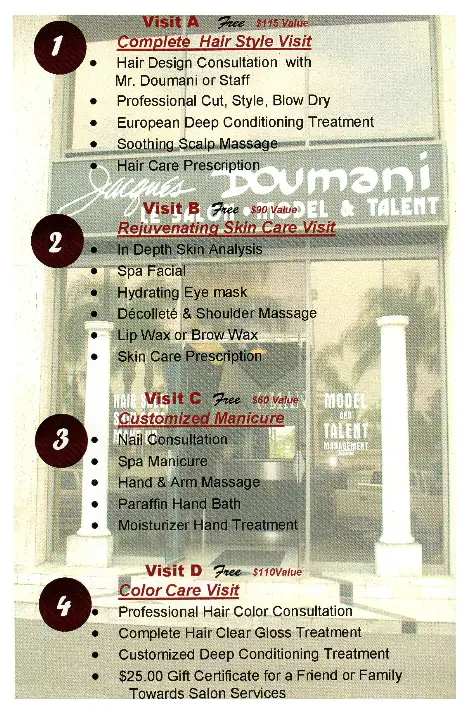 The celebrated hair stylist Jacques Doumani is celebrating his sixteenth year in Santa Ana, in the Wells Fargo building, near the MainPlace Mall, with an incredible salon special.
For only $50 you will get all of the specials listed in the graphic above, which have a value of $380, including:
A complete hair style visit
A rejuvenating skin care visit
A customized manicure
And a color care visit too!  The latter also includes a $25 gift certificate for a friend or family, towards salon services.
But that's not all, you also get a series of great bonuses, as seen in the graphic below, including: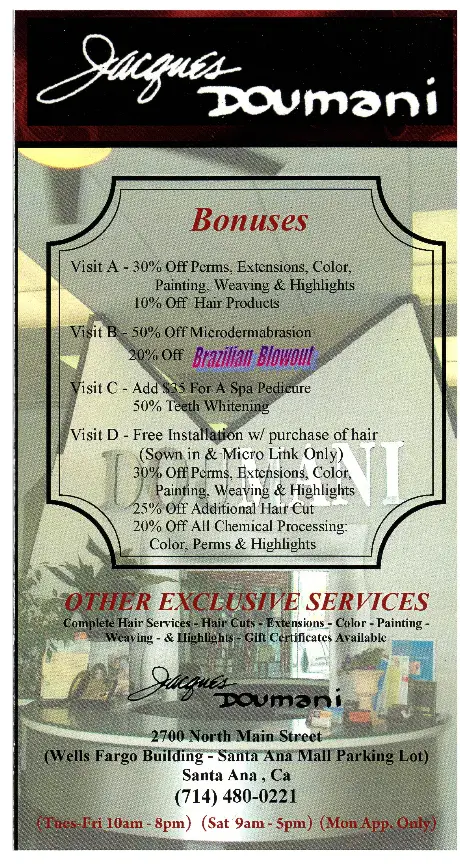 30% off perms, extensions, color, etc. in the hair care visit
50% off microdermabrasion and 20% off Brazilian Blowout, in the skin care visit
$35 for a spa pedicure in the first visit, or half off teeth whitening
And a series of great discounts as seen in the graphic above, in the last visit.
If you would like to buy one of the Jacques Doumani salon specials, call Adrian at 323-424-2293, or email him at aries13music@yahoo.com.  Click here for more information.
Jacques Doumani is located at 2700 North Main St., near the MainPlace Mall, in the Wells Fargo building, in Santa Ana.  Their phone number is 714-480-0221.  Their hours are Tuesday – Friday from 10 am to 8 pm, Saturday from 9 am to 5 pm, and Monday by appointment only.