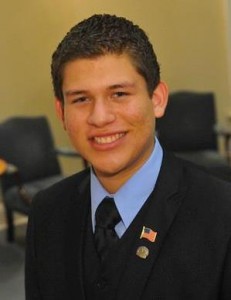 Past Intern of Project SELF Mentoring Internship for Low-Income Minority Teens Receives Full Ride to Georgetown University; Internship at White House
Crowell & Moring Intern Jonathan Espinoza sets example for future Project SELF participants
FOR IMMEDIATE RELEASE
Media Contact: Jess Block, 909-706-8525 or jessblockpr@gmail.com
SANTA ANA, CA- Segerstrom High School senior Jonathan Espinoza was introduced to the legal professional field through the Project SELF (Summer Employment in Law Firm) program as a summer 2011 intern, an experience that has guided him toward the ultimate goal of earning a Juris Doctor. Jonathan has been awarded a summer 2012 internship at the White House and full ride offer to Georgetown University for fall of 2012.
"Project SELF gave me an outstanding opportunity, and opened my eyes to a world of possibilities," says Jonathan Espinoza.
Espinoza, 17, resident of Santa Ana, participated in Project SELF as an intern at Crowell & Moring in Irvine for a paid, eight-week internship that offered the opportunity to learn basic office skills, participate in a day in court and work alongside professional lawyers.
Project SELF, a non-profit program, is a collaboration between the Orange County Bar Foundation (OCBF) and the Orange County Chapter of the Association of Legal Administrators (OC-ALA).
"We are thrilled for Jonathan and his amazing accomplishments post Project SELF," says Pamela Kuckelman, OC-ALA Project SELF chair and Office Administrator at Allen Matkins. "This program can be a life-changing experience for the students, and that is certainly the case for Jonathan! We hope Jonathan's story will inspire and motivate students and future Project SELF participants."
Espinoza is also the chair of the City of Santa Ana Youth Commission, a representative for the City of Santa Ana Parks and Recreation Board, and is involved at Segerstrom High School as president of the Segerstrom High School Band and Pageantry, and a member of Segerstrom High School Site Council.
For more information about Project SELF, contact Nancy Garcia, OCBF Associate Director, at (714) 480-1925 ext. 108 or at ngarcia@ocbarfoundation.org.
Media inquiries contact Jess Block, Media Relations, at 909-706-8525 or JessBlockPR@gmail.com or Jonathan Espinoza at (714) 675-4201 or jonathan.espinoza94@gmail.com.
ABOUT PROJECT SELF: Project SELF (Summer Employment in Law Firm) provides minority high school juniors the opportunity to have an eight-week paid summer internship at a law firm while gaining valuable educational and work experience. The program is a collaboration between two non-profits: the Orange County Bar Foundation (OCBF) and the Orange County Chapter of the Association of Legal Administrators (OC-ALA). The Orange County Bar Association (OCBA) assisted in Project SELF's inception and has continued to support the program. Since inception in 1995, 561 students have participated in Project SELF.
ABOUT ORANGE COUNTY BAR FOUNDATION (OCBF): OCBF is a non-profit organization committed to keeping at-risk youth out of jail, in school, healthy and drug free through education, counseling and mentoring. http://www.ocbarfoundation.org/
ABOUT ORANGE COUNTY CHAPTER OF THE ASSOCIATION OF LEGAL ADMINISTRATORS (OC-ALA): OC-ALA is a membership association that provides educational and networking opportunities to improve the quality and competency of legal administrators. OC-ALA has more than 145 members in the Orange County Area and is a chapter of the Association of Legal Administrators, which consists of over 10,000 members worldwide. http://www.orangecountyala.org/
—
***********************************************
MEDIA CONTACT
Jess Block, Felten Media Services
JessBlockPR@gmail.com
909. 706. 8525
909. 510. 8214 fax
www.feltenmedia.com
www.jessblock.com
www.twitter.com/jessbphoto
www.facebook.com/feltenmedia
Here is my original post about Espinoza's acceptance to Georgetown University:
Santa Ana Youth Commission Member Jonathan Espinoza has been accepted to the prestigious Georgetown University – and he got a scholarship too!
Espinoza attends Segerstrom Fundamental High School, where is a member of their school band.  He is graduating next spring.
Espinoza has been involved in the community for years.  He previously served on the Santa Ana Parks and Recreation Commission and he has been actively involved in a number of political campaigns as well.  I know he worked very hard on State Senator Lou Correa's last campaign.
Espinoza is understandably thrilled to be going to a great school.  He posted this note on his Facebook page earlier today, "Everything feels surreal! The good news just keep on coming and it all feels like a dream! Like everything is too good to be true! After 17 years of struggles the light at the end of the tunnel is only a short distance away. I can't believe it!"
I have known Espinoza for some time and have been very proud to see him learning and succeeding.  You just know that he has a great future ahead.
Here is his acceptance letter from Georgetown: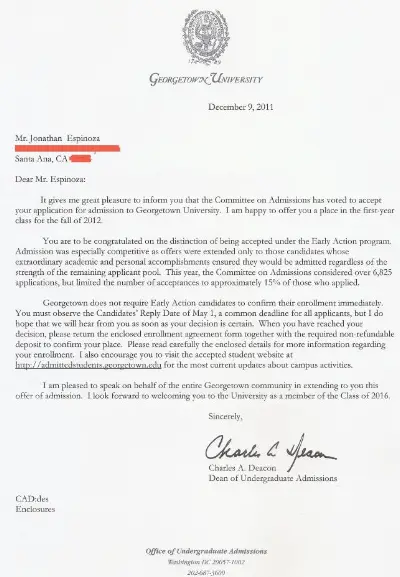 It should be noted that Espinoza is also a Republican.  Perhaps there is hope for his party after all…
Congratulations Jonathan!  Go Hoyas!