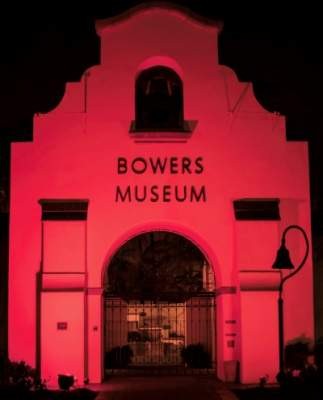 FOR IMMEDIATE RELEASE
Bowers Museum Bell Tower Transformed for National Go Red For Women Day
OC Museum Participated in 13th Annual American Heart Association Campaign
SANTA ANA, CALIF. – The Bowers Museum in Santa Ana was among the numerous locations nationwide to "Go Red" on Friday, February 6, as part of the 13th Annual American Heart Association Go Red Day promoting women's heart health.  As part of this campaign, the Bowers Museum's iconic Mission-style Bell Tower was bathed in brilliant red light to help raise awareness about the importance of heart health among women. Located at 2002 N. Main St. in Santa Ana, the Bowers Museum is a familiar sight for thousands of daily commuters driving along Main Street.
The annual Go Red For Women campaign raises awareness that heart disease is the No. 1 killer of women, and encourages them to take preventive measures to reduce their risk. The movement harnesses the energy, passion and power women and those who love them, to band together and collectively wipe out heart disease. On a national level, the Go Red For Women movement has resulted in 650,000 women's lives being saved over the last 10 years.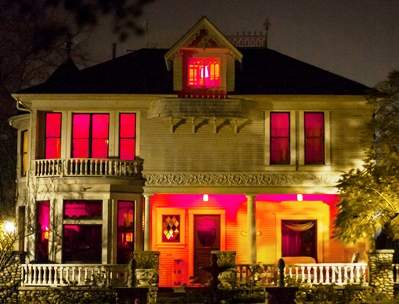 In addition to the Bowers Museum, the Heritage Museum of OC, Northgate Markets, John Adams Elementary, Sepulveda Elementary and Fremont Elementary were among the organizations, businesses and schools in Santa Ana to "Go Red".
The Heritage Museum illuminated their historical Kellogg House with red lights for the American Heart Association's National Go Red Day. The Kellogg House was designed in 1898 by Hiram Clay Kellogg, a local engineer responsible for many of Orange County's early water systems, dams, roads, bridges, railways and other structures. The house is now used for hands-on education about the Victorian era for more than 18,000 children each year.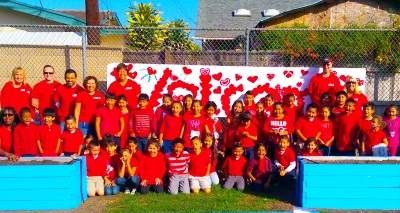 John Adams Elementary students planted in their Teaching Gardens for the American Heart Association's National Wear Red Day in collaboration with Fluor Global Engineering Construction Company employees. Fluor employees and students wore red while planting vegetables, painting garden decorations and making healthy smoothies.
For more information about the Bowers Museum, visit www.bowers.org. For information regarding Going Red in Santa Ana, please call Marklem Valdovinos at (949) 885- 1543, email marklem.valdovinos@heart.org or visit http://www.goredforwomen.org or http://www.GoRedCorazon.org.
###
For more information, please contact:
Megan Martinez, Vice President of Development and Marketing, Bowers Museum
714.567.3635, mmartinez@bowers.org